Obama Seeks Conservative Court Relief on Immigration Plan
Della Hasselle and Laurel Brubaker Calkins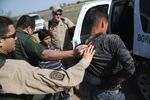 President Barack Obama's efforts to let almost 5 million undocumented immigrants stay in the U.S. may languish as his second term winds down unless he can win over one of the nation's most conservative appeals courts.
Two of the three appellate judges in New Orleans now considering the case were nominated by Republican presidents, and one made it clear during a hearing Friday that the federal government faces a tough challenge.
U.S. Circuit Judge Jennifer Walker Elrod said the administration's request to suspend the lower-court order blocking the program while the legal fight continues can't be granted because the government hasn't shown it's likely to ultimately win. To do that, the president has to prove he has the power to change immigration law.
"You haven't brought arguments on constitutional claims" that are strong enough "to give you a stay," U.S. Circuit Judge Jennifer Walker Elrod told a Justice Department lawyer.
Obama's immigration order has become a flashpoint in Washington, with Republican lawmakers maintaining that his actions were unconstitutional. In February, House Republicans threatened to withhold funds for the Department of Homeland Security over the program, and passed a bill just before funding was set to expire.
Obama's Chances
Texas, with the backing of 25 other states, won a court order putting the immigration program on hold. Sidney Powell, an attorney with 20 years of experience arguing before the New Orleans court, said the makeup of the panel makes an Obama win unlikely.
"Based on these judges' track records, this panel will give a lot of weight to the states' arguments," Powell said. "The states should certainly win this hearing."
The 26 states sued in December to derail Obama's deferred-action initiative, calling it illegal executive amnesty. They claim the president lacks authority to alter immigration laws and award federal benefits to undocumented immigrants without the approval of Congress or U.S. judges.
The White House contends it can marshal scarce border-security resources and enforce immigration laws how it chooses. The administration also claims the new rules don't trigger federal policy-making regulations, as the states contend, because immigration agents retain discretion to gauge each applicant on a case-by-case basis.
Critical Audience
Justice Department lawyers are asking the appeals court to suspend the lower-court ruling blocking the immigration program. They faced a critical audience Friday from the panel, which will issue a ruling later.
Elrod, an appointee of George W. Bush, was joined on the panel by U.S. Circuit Judge Jerry E. Smith, a Ronald Reagan appointee who has described himself as a former "right-wing activist." In 2012 in another case, Smith made a government lawyer write a three-page research paper after he suggested federal judges lack authority to overturn unconstitutional laws.
The panel's third judge, Stephen A. Higginson, an Obama nominee, also questioned some of the federal government's underlying arguments in the case.
The judges pressed lawyers on both sides on just how much Obama's deferred-action program alters an undocumented immigrant's legal status. They focused on the administration's plan to award some immigrants benefits.
Federal Benefits
Scott A. Keller, Texas's attorney, said the program changes qualified applicants' status to "lawful presence," shielding them from deportation and entitling them to federal benefits including Social Security, Medicare and unearned income tax credits.
Higginson said providing immigrants with such valuable economic incentives for participating makes the program something "a little different from deferred prosecution," as the White House contends.
Elrod chided lawyers on both sides for failing to address the constitutional issues in the case, although the lower-court order blocking the program on procedural grounds specifically put those off for later consideration.
She pressed Benjamin Mizer, a Justice Department attorney, on the potential scope of federal benefits for deferred-action beneficiaries, and whether the administration believes courts or the states can challenge the appropriateness of benefits they think go too far.
Voting Question
Elrod asked whether opponents would be able to challenge the program if it included giving voting rights as a benefit. "What if that was part of it? Would that be reviewable and constitutional?"
The states could challenge that issue, Mizer replied, while emphasizing that the program is designed to be "only temporary."
Higginson said the crux of the dispute is whether the program requires immigration officials to rubber-stamp applications or lets them evaluate each immigrant's case individually. The language of the statute indicates agents retain discretion, he said, "but data arguably undercuts it."
Higginson suggested U.S. District Judge Andrew Hanen, the Bush appointee in Brownsville, Texas, who blocked the program, should determine how many applicants were denied permits for discretionary reasons under the 2012 version of the deferred-action initiative. Immigration agents might be exercising more discretion than Texas recognizes, he said.
Keller replied that 95 percent of applicants to the earlier program were approved.
'Powerful Factor'
Could that high approval rate be because "only aliens who aren't going to get deported are applying?" Higginson asked. "Why isn't that a powerful factor?"
Hanen, who had blasted Obama's immigration policy as a failure in an unrelated 2013 case, barred the federal government from proceeding with the program while he decides whether the president violated the Constitution. He also threatened to punish Justice Department lawyers if he determines they misled him.
The government hadn't "shown any credible reason" why Obama's order needed immediate implementation, Hanen wrote in his April 7 order. "There is no pressing, emergent need for this program."
The judge's decision halted federal implementation of two key pillars of the president's immigration plan: an expansion of the program that offered relief to immigrants brought illegally to the U.S. as children, and a new opportunity for the parents of U.S. citizens and permanent residents to remain in the country.
State Differences
Texas argues it will be almost impossible to recover permits and benefits from people if Obama's program is ultimately thrown out.
The complaining states also said the court should discount calculations by 14 other states, which have aligned with the White House, that predict many of them will collect increased tax revenue from fully employed immigrants that will exceed the costs of providing them with additional services.
The appellate case is Texas v. U.S., 15-40238, U.S. Court of Appeals for the Fifth Circuit (New Orleans). The lower-court case is Texas v. U.S., 1:14-00254, U.S. District Court, Southern District of Texas (Brownsville).
Before it's here, it's on the Bloomberg Terminal.
LEARN MORE