NFL Sponsor Revenue Seen Rising 7.8% Amid Controversies
Erik Matuszewski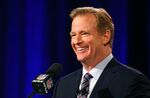 The National Football League's sponsorship revenue increased 7.8 percent to $1.15 billion last season even as it faced criticism for the way it handled a series of high-profile domestic violence incidents, according to a study by sponsorship consultant IEG.
TD Ameritrade, Dannon and Nationwide insurance joined the NFL as new league sponsors during the 2014 season.
The NFL's rise outstrips the 4.2 percent increase in the overall sponsorship industry and the 4.9 percent rise in sports last year, according to IEG.
"Corporate interest in the NFL is seemingly immune to off-field controversy," William Chipps, senior editor of the IEG Sponsorship Report, said in a statement.
The NFL's sponsorship revenue -- for the league and its 32 teams -- has climbed from $870 million in 2010, IEG said.
NFL spokesman Brian McCarthy declined to comment on the study's revenue totals.
"The NFL continues to be the leading vehicle for brands to reach a massive audience, thanks to our fans' passion for the game and the insatiable appetite for football throughout the year," he said in an e-mail.
A domestic violence case involving former Baltimore Ravens running back Ray Rice led corporate sponsors such as Anheuser-Busch InBev NV and PepsiCo Inc. to criticize the NFL's handling of the Rice situation and other abuse cases. It also left Commissioner Roger Goodell defending his job and spurred the NFL to hire female advisers and strengthen its personal-conduct policy.
The most popular U.S. sports league, the NFL reaped about $10 billion in total revenue last season and Goodell has a stated goal of $25 billion annual revenue by 2027.
Before it's here, it's on the Bloomberg Terminal.
LEARN MORE