Nations Hit by Ebola Need $8 Billion for Economic Recovery
Andres R. Martinez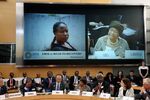 The three nations hardest hit by Ebola in West Africa need $8 billion to rebuild their economies as part of a plan styled on the Marshall Plan.
Sierra Leone, Liberia and Guinea can't wait for commitments from donors before a conference in June, Liberian President Ellen Johnson Sirleaf said Friday in Washington. The Marshall plan was an aid program after World War II used to rebuild the economies of Europe.
"The Marshall Plan was a consequence of war," Guinean President Alpha Conde said. "Ebola is like a war in our countries."
The worst outbreak of the illness has killed more than 10,000 people since December 2013 and pushed the three economies to recession. Before the outbreak, Sierra Leone was the second-fastest growing nation in sub-Saharan Africa because of the development of iron-ore deposits.
Decades of violence in Sierra Leone and Liberia had devasted infrastructure and left the health industry underdeveloped. The three nations, with a combined gross domestic product of $13 billion, had fewer than 500 doctors to treat about 20 million people.
Before it's here, it's on the Bloomberg Terminal.
LEARN MORE