Most Americans Think College Is Out of Reach
That's bad news, given the increasing importance of a college degree
by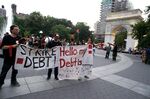 Most Americans believe people who want to go to college can get in somewhere—they just don't think they'd be able to afford it, according to a new Gallup-Lumina Foundation poll.
While 61 percent of adults believe education beyond high school is available to anyone who needs it, only 21 percent agree that it's affordable, according to the poll results, released on Thursday. Some racial groups were much more optimistic than others. Fifty-one percent of Hispanic adults said higher education is still affordable, Gallup found. Just 19 percent of black adults and 17 percent of white adults agreed.
The results, based on a survey of 1,533 adults who were contacted from November through December 2014, show there's a sizable gap between the share of Americans who believe people can merely access college and those who believe people can still afford it.
"If a bachelor's degree is one important way for today's young adults to achieve the American dream, affordability in particular could jeopardize that dream," the report said.
Tuition at public colleges has risen more than 250 percent over the last 30 years, the two organizations noted. At the same time, financial aid hasn't kept up. Students have been leaving school with record amounts of debt: In a separate study, Gallup and Purdue University found more than a third of students who graduated college from 2000 to 2014 were saddled with more than $25,000 in loans. Even if Americans believe anyone, in theory, could find their way to a college classroom, they're not optimistic anyone could pay to stay there.
Before it's here, it's on the Bloomberg Terminal.
LEARN MORE