Greek Woes Push German Yield to Record Low as Spanish Bonds Drop
David Goodman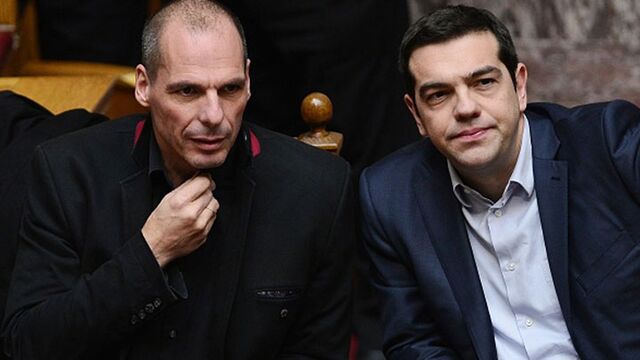 Greece's negotiations to secure funding and avoid a default weighed on other euro-area government debt markets, with securities from Spain and Italy dropping, while German 10-year yields touched a record low.
Greek government bonds headed for their worst week since the aftermath of Syriza's election in January as officials worked to reach an agreement before the nation faces payments of almost 1 billion euros ($1.1 billion) next month. German securities are also being boosted after Mario Draghi this week said the European Central Bank's 1.1 trillion-euro quantitative-easing program must be implemented in full. That program has also been insulating bonds from the region's periphery from the worst of the Greek selloff.
"It's been a theme of core bonds being driven by Greece and the post-ECB impact," said Orlando Green, a fixed-income strategist at Credit Agricole SA's corporate and investment banking unit in London. "The periphery has been pushed around by the Greek factor -- for most of the year, policy has been the driver, but politics is starting to have an impact. Greek yields are a gauge of how bad the market sees the situation."
Benchmark German 10-year yields dropped two basis points, or 0.02 percentage point, to 0.07 percent as of 3:07 p.m. London time and touched 0.049 percent, the lowest since Bloomberg started tracking the data in 1989. The 0.5 percent bund due in February 2025 rose 0.145, or 1.45 euros per 1,000-euro face amount, to 104.205.
Spain, Italy
Spain's 10-year yield climbed eight basis points to 1.43 percent. While that's up from a record-low 1.048 percent reached last month, it's still less than a fifth of the euro-era record 7.751 percent reached in July 2012. The yield on similar-maturity Italian bonds increased seven basis points to 1.45 percent.
Credit-default swaps suggest there's an 80 percent chance of Greece being unable to repay its debt in five years. Yanis Varoufakis, finance minister in the Syriza party-led government which was elected Jan. 25, said Thursday he hoped to reach a deal with the euro area by the end of June and wasn't considering a unilateral exit from the region.
The Greek government, that came to power proposing to end austere budgets, has been locked in talks with creditors over measures attached to its bailout loans. It must make payments to the International Monetary Fund of 200 million euros and almost 800 million euros in the first two weeks of May. Funds may be exhausted by May 12, when the second payment is due, Standard & Poor's said Wednesday, when it downgraded the nation's sovereign credit rating to CCC+ from B-.
Greece's 10-year yield rose 11 basis points to 12.83 percent. The yield has climbed 159 basis points this week, the most since the period ended Jan. 30. The price of the 3 percent bond due in February 2025 fell to 48.925 percent of face value.
(An earlier version of this story corrected the year of maturity for the bond mentioned in the final paragraph.)
Before it's here, it's on the Bloomberg Terminal.
LEARN MORE