Finns Set to Topple Government as Economic Pain Spurs Voters
Kati Pohjanpalo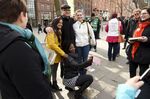 Finns look set to vote out a government marred by political infighting and elect a party led by a self-made millionaire promising a business-driven recovery.
After three years of economic decline, Finland's next government will need to fix chronic budget deficits, a debt load that's set to breach European Union limits, rising unemployment and economic growth that's about half the average of the euro zone.
Juha Sipila, who leads the opposition Center Party, has promised business-friendly policies he says will create 200,000 private-sector jobs. His party is polling about 6 percentage points ahead of the next-biggest groups, according to newspaper Helsingin Sanomat. If he wins Sunday's vote, Sipila will probably try to form a majority coalition that's likely to include the euro-skeptic The Finns party.
"Putting together a new, workable government that can turn around Finland's public finances is the most important economic policy step," Anssi Rantala, chief economist at Aktia Bank Oyj, said by phone. "The government has to take seriously the gigantic deficits we have in state and municipal budgets, and it has to change the way it implements austerity: most has been through tax increases."
Austerity isn't what splits Finland's political parties. All major groups have pledged some combination of belt-tightening and growth policies. The Finance Ministry estimates 6 billion euros ($6.5 billion) of austerity measures are needed by 2019 to prevent debt reaching 70 percent of gross domestic product. It also says there's no scope to raise taxes without stifling economic growth.
Finland's Tumor
The real tumor preventing a Finnish recovery is the lack of competitiveness that's killed its consumer electronics business and eaten away at its paper industry. Politicians in the country have so far failed to create an environment in which new growth industries can thrive.
To make matters worse, Finland met a slump in exports at the height of the global financial crisis with rising wages, undercutting its trade competitiveness and killing jobs. Unemployment was 10.1 percent in February.
Prime Minister Alexander Stubb's government tried to curb debt growth by raising taxes and cutting expenditure. Instead, the measures eroded economic growth and left a bigger relative debt burden to pay down. None of the government's economic pledges were borne out and Finland was stripped of its prized AAA credit rating in October by Standard & Poor's.
Tough Decade
Sipila has warned that Finland still faces a tough decade. His party wants to continue budget cuts and to lower social security fees. It also plans to loosen labor market regulations to keep deficits from widening as it tries to stimulate growth.
Sipila ruled out raising taxes as a budget fix, according to a posting in his blog on Saturday. The government must target narrowing the public-sector deficit from 2016 and making the debt-to-GDP ratio decline "within a couple of years."
"We now only have this one term to get public finances onto a sustainable footing by the start of next decade," Rantala at Aktia said. "We know that then our health care and elderly care costs will grow at a clearly faster pace due to demographic reasons."
Polling stations across the country of 5.4 million people opened at 9 a.m. local time and close 11 hours later, when results of the first votes are published. Almost a third of voters have already cast their ballots, according to the Justice Ministry. The count will finish late Sunday.
"What makes me more hopeful than four years ago is that it seems there's a better understanding across the political spectrum of the economic situation," Rantala said. "Naturally it's difficult for policy makers to talk about billions of euros of budget cuts just before elections, because that means dipping into the pockets of the middle class, but I believe after the elections they'll double down and start talking about measures in the right order of magnitude."
Before it's here, it's on the Bloomberg Terminal.
LEARN MORE