Ex-IMF Chief's Fall Sparks Disbelief Mixed With Cynicism
Maria Tadeo and Esteban Duarte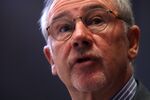 Spaniards reacted with a mixture of disbelief and cynicism to the detention on Thursday night of Rodrigo Rato, the former finance minister whose stewardship of Bankia SA brought the country to the brink of collapse in 2012.
Members of the governing People's Party were left "speechless" by the images of their former colleague, who led Spain into the euro before becoming managing director of the International Monetary Fund, Esteban Gonzalez Pons, the party's deputy general secretary, said in a television interview on Telecinco. Rato was escorted from his home in the exclusive Madrid neighborhood of Salamanca and driven away by customs agents in front of a forest of television cameras.
Rato is being investigated for possible money laundering after he took advantage of a 2012 tax amnesty to repatriate previously undeclared offshore funds. He told El Pais newspaper he had cooperated with investigators and has full trust in Spain's justice system. His lawyer Ignacio Ayala wasn't immediately available for comment when contacted by phone at his offices in Madrid.
"We're totally surprised," Gonzalez Pons said. "This is a letdown."
While the raid sent shock and excitement through a political class gearing up for a general election at the end of the year, some argued the move was orchestrated to help Prime Minister Mariano Rajoy shore up his support.
"The unnecessary and fleeting detention of Rato was a media trick to deflect attention for the scandal of the tax amnesty," Pedro J. Ramirez, the former editor of El Mundo who was fired after publishing corruption allegations against Rajoy, said on Twitter.
El Pais columnist Ernesto Ekaizer wrote that Rajoy is trying to "win himself a medal" for fighting corruption.
Televised Arrest
Spain's state broadcaster, which has been criticized by its own journalists for downplaying stories damaging to the government, showed Rato's arrest in a live broadcast from his home, opened its prime time news show with the arrest and dedicated its nightly debate show to the former IMF boss.
"This will be the image the people remember from the crisis," Jose Carlos Diez, an economics professor at the University of Alcala, said in a telephone interview. "This is the iconic moment that marks the end of a cycle."
Asked about the Rato probe, Deputy Prime Minister Soraya Saenz de Santamaria said the Spanish government doesn't interfere with legal processes.
"This government respects the law, applies it and makes sure it is applied regardless of the electoral calendar," she added at her weekly Friday press conference in Madrid.
Rajoy has struggled to repel claims of systemic corruption within his party since taking office in 2011. PP members from the so-called Gurtel ring are due to stand trial in the National Court and in October another group of mainly PP officials were arrested on bribery allegations.
Barcenas Payments
In 2013, the former treasurer of the governing People's Party, Luis Barcenas, said that he'd run a secret slush fund for senior officials including Rato and Prime Minister Mariano Rajoy for over a decade. Rajoy denied receiving the payments and Rato's lawyer Ayala declined to comment through an assistant when contacted at the time.
Director of Spanish tax agency Santiago Menendez told Parliament on Feb. 17 that 705 people involved in tax amnesty are being investigated for possible money laundering. On Thursday, Justice Minister Rafael Catala said many of those on the list are politicians or senior public figures.
Budget Minister Cristobal Montoro said at the Friday press conference he doesn't know who is on the list and declined to say whether politicians currently in office are being probed.
The government is due to approve a draft law that would allow it to release a list of people who owe the tax agency more than 1 million euros ($1.1 million) and have been convicted of tax fraud.
With Socialist officials in Andalusia being investigated over the embezzlement of benefit funds, voters have turned against the country's traditional parties and two new groups, the pro-market Ciudadanos and anti-austerity Podemos, have soared in polls.
Podemos has called an anti-corruption protest outside the PP's headquarters in Madrid for Friday evening.
"It's not just about Rato's arrest, it's about an economic system cemented on corruption," Inigo Errejon, Podemos's No. 2, said on Twitter. "In May, they'll be heading for the exit."
'Not So Bad'
Rato cut short his term at the IMF in Washington to return home and was handed the chairmanship of Bankia SA, the lender that collapsed on his watch in 2012, forcing Spain into a bailout. The 66-year-old is already an official suspect in the National Court's criminal investigation into Bankia. He has denied any wrongdoing. In a separate case linked to Caja Madrid, one of the six banks in the Bankia IPO, Rato has also been accused of misusing company credit cards.
"This is bad news for Rajoy, but it's not so bad," said Antonio Roldan, a London-based political analyst at Eurasia Group. "Rato is part of that elite that was already dead politically."
Before it's here, it's on the Bloomberg Terminal.
LEARN MORE