Americans' Confidence Climbs to Second-Highest Since 2007
Victoria Stilwell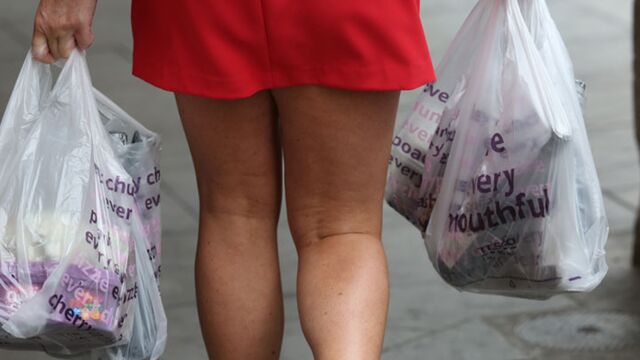 Consumer confidence improved in April to the second-highest level in more than eight years as Americans held more favorable views of the economic outlook and inflation.
The University of Michigan said Friday that its preliminary index of sentiment climbed to 95.9 this month from 93 in March. The median projection in a Bloomberg survey of economists called for an increase to 94.
Consumers were more upbeat about the economy, their current financial situations and the buying climate, indicating spending will pick up after a lackluster performance in the first quarter. At the same time, households have a dimmer view about their income prospects, meaning shoppers will keep seeking out discounts from merchants.
The report "is encouraging given that the March payroll report was a little bit weaker and some of the other data around the consumer has been softer," said Michelle Meyer, deputy head of U.S economics at Bank of America Corp. in New York. "The fact that consumers are feeling better hopefully will translate into greater expenditures over time and that's been a missing link to the economic recovery this year."
Forecasts for the Michigan index in the Bloomberg survey of 68 economists ranged from 91.8 to 100. The index averaged 84.1 last year.
The sentiment survey's current conditions index, which measures Americans' assessment of their personal finances, rose to 108.2 this month, also the second-highest since January 2007, from 105. The measure of expectations six months from now increased to 88 from 85.3 in March.
Inflation Expectations
Americans expected an inflation rate of 2.5 percent in the next year, matching the lowest level since September 2010 and down from 3 percent in March. Over the next five to 10 years, they expect a 2.6 percent rate of inflation, compared with 2.8 percent in the previous month.
"There's hardly a person that thinks prices are now expensive, but they think that they need to go down before they become more attractive to buy," Richard Curtin, director of the Michigan Survey of Consumers, said on a conference call after the report. "That's what's holding back more aggressive buying."
A report Friday from the Labor Department showed inflation is starting to firm. The consumer-price index excluding food and fuel climbed 0.2 percent in March, reflecting broad-based gains in rents, medical care, clothing and used vehicles. Including the volatile costs of food and energy, the index also advanced 0.2 percent.
Gasoline Prices
Gas prices are playing a big role in shaping consumers' outlooks on the economy. Lower fuel costs are translating into more disposable income that can be spent paying down debt or buying goods and services. A gallon of regular gasoline cost an average $2.43 on Thursday, down from last year's peak of $3.70.
The average U.S. household is expected to spend $1,817 on gasoline this year, the lowest amount in a decade and about $700 less than in 2014, according to the Energy Information Administration. Outlays on gas are expected to rise to $2,058 per household next year.
That means job gains -- and more importantly, wage growth - - will be even more crucial to consumers. Payrolls rose by 126,000 workers in March, the fewest since December 2013, after 12 straight months of gains of 200,000 or more. The Labor Department's figures also showed a 2.1 percent gain in hourly pay in the year through March, in line with the pace since the recovery began in June 2009.
Wage Growth
"You've seen plenty of jobs created over the last year, but the problem is we haven't seen any perceptible acceleration in wage growth," said Thomas Simons, a money market economist at Jefferies LLC in New York. "The energy savings have been a little bit of a boost, but that's not sustainable."
As the job market improves and inflation shows signs of moving toward their goal, Federal Reserve policy makers are considering when to begin raising interest rates for the first time since 2006.
"Few consumers now anticipate that the Fed would raise rates enough to affect their current purchase plans," Curtin said.
Fatter paychecks and higher confidence would help lift spending, which has failed to extend a fourth-quarter pickup. Retail sales climbed 0.9 percent in March, less than the 1.1 percent gain expected by economists surveyed by Bloomberg, as Americans used the savings from cheaper prices at the gas pump to shore up finances.
At 5.8 percent, the saving rate is at the highest level since November 2012. That explains why companies like casual dining chain Ruby Tuesday Inc. are relying on promotions and discounts to bring people through the door.
"It's still pretty choppy," Chief Executive Officer James Buettgen said on a April 9 earnings call. "A lot of people have been talking about things like gas prices and wondering if that's going to translate into a stronger consumer environment. We haven't seen a change there."