China Stocks Rally for Sixth Week of Gains on Policy Easing Bets
Bloomberg News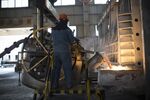 Chinese stocks rose, with the Shanghai Composite Index capping a sixth straight week of gains, on speculation the government will add stimulus as the economy decelerates.
Train makers CSR Corp. and China CNR Corp. jumped by the 10 percent daily limit for a fifth day to lead industrial companies higher. Shanghai Fosun Pharmaceutical Group Co. soared 17 percent in Hong Kong following a three-week trading suspension on a plan to sell shares.
The Shanghai Composite climbed 2.2 percent to 4,287.30 at the close, the highest since March 2008. The gauge has jumped 81 percent in the past six months, the most among 93 benchmark indexes globally, fueled by record leverage and speculation the government will lower borrowing costs to boost growth in the world's second-largest economy.
"The market expectations have been there that the government will loosen monetary policies further soon," said Wu Kan, a money manager at Dragon Life Insurance Co. in Shanghai, which oversees about $3.3 billion. "Railway stocks are the major bets on the government's state strategy of the New Silk Road Plan, which will help infrastructure construction in developing nations. Funds are now riding on the government's strategic plays."
The CSI 300 Index rose 1.8 percent as gauges of industrial and energy companies surged more than 4 percent. The Hang Seng China Enterprises Index slid 1.3 percent and the Hang Seng Index retreated 0.3 percent. The Shanghai Composite climbed 6.3 percent this week.
Short Selling
Chinese stock futures plunged in Hong Kong and Singapore after the market close. The China Securities Regulatory Commission said it will expand the number of stocks available for short selling to 1,100, while banning margin financing for over-the-counter stock trading. SGX FTSE China A50 Index futures slid 4 percent and Hang Seng China Enterprises futures dropped
2.1 percent.
Data this week showed the economy expanded 7 percent in the first quarter from a year earlier, the slowest pace in six years, while industrial production grew 5.6 percent in March, missing the lowest forecast in Bloomberg's survey of 40 economists. Retail sales and fixed-asset investment also trailed analyst estimates.
The Shanghai Composite is valued at 21.1 times reported earnings, the highest since April 2010 and more than double last year's low, according to data compiled by Bloomberg. The MSCI Emerging Markets Index trades at 13.7 times.
Silk Road
"If measured by price-earnings ratio, a bubble is obvious as the P/E ratio for 70 percent of stocks is higher than 50 times," Chen Xingdong, an analyst at BNP Paribas SA, wrote in a report dated Thursday. "But based on the three decisive factors: rich liquidity, the strong expectation of further policy easing, and the belief that financial risks are well under control, the current bubble may continue to grow."
CSR and CNR have both surged 61 percent this week, making them the best performers among the 1,073 members on the Shanghai Composite. The two companies, which are in the process of merging, now have a combined market capitalization of $142 billion, while their relative strength indexes are above 94. Levels above 70 signal to some traders shares are due to fall.
The initiatives aiming to link economies in Asia, Europe and Africa through the Silk Road plan are open to all countries for investment, the Xinhua News Agency cites Ou Xiaoli, an official of the National Development and Reform Commission, as saying at a briefing yesterday. For Chinese manufacturers, fresh opportunities in countries from Indonesia to Kazakhstan would help counter the impact of a domestic property-market slump and sluggish demand for exports in Europe.
Smart Money
Shanghai Fosun posted a record one-day gain after the company said it plans to raise 5.8 billion yuan ($936.5 million) selling new yuan-traded A shares.
China's first mutual fund to gain access to the Hong Kong exchange link says stocks in the city are still cheap after surging to seven-year highs.
Chinese shares listed in Hong Kong will probably outperform their mainland counterparts because valuations are lower, said Linda Xie, the manager of the IGW China-HK Selected Equity Fund, which raised 11 billion yuan in 19 days after opening it up to investors on March 26.
Five of 11 professional money managers from mainland China, Hong Kong and Taiwan surveyed by Bloomberg from April 8 to 16 said they plan to boost holdings of A shares this quarter, while four will maintain positions and two will reduce their stakes. Technology, consumer, health-care and financial shares were preferred industries among the managers, who oversee a combined $41 billion.
Margin traders increased holdings of shares purchased with borrowed money on Thursday, with the outstanding balance of margin debt on the Shanghai Stock Exchange rising by 1 percent to a record 1.16 trillion yuan.
— With assistance by Shidong Zhang
Before it's here, it's on the Bloomberg Terminal.
LEARN MORE