Apple Executives Paid $281 Million Have Top Pay-for-Performance
Caleb Melby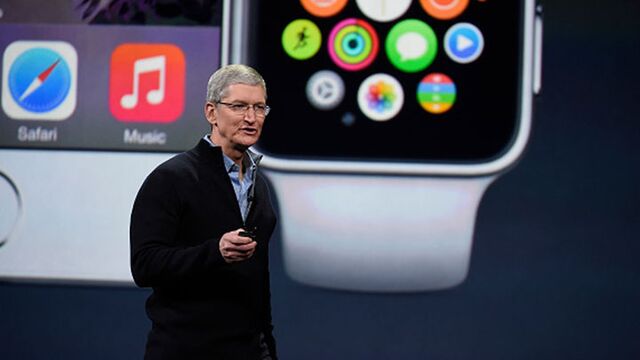 Five Apple Inc. employees who were paid $281 million last year are among the 100 highest-paid executives in the U.S.
They're worth every penny, according to the Bloomberg Pay Index, the first daily ranking of U.S. executive compensation.
Chief Executive Officer Tim Cook, Senior Vice Presidents Angela Ahrendts, Eduardo Cue and Jeffrey Williams, and former Chief Financial Officer Peter Oppenheimer have a combined pay package equivalent to about 1 percent of the company's economic profit, according to the ranking.
"Steve Jobs was a one of a kind leader," Dan Ernst, an analyst at Hudson Square Research in New York, said of Apple's founder. "The risk was always high that people wouldn't be able to fill those shoes. You want a great team, and they've done that."
The pay-for-performance measure used in the Bloomberg ranking is calculated using an executive's pay as a percentage of a company's economic profit, which is defined as after-tax net operating profit minus its cost of capital. A smaller percentage indicates a better return on each dollar paid to an executive.
The five Apple executives are better bargains for investors than 94 of the 100 highest-paid executives, according to the ranking. There are 91 executives in the index who receive a larger percentage of their company's economic profit individually than Apple's executives do as a group. Thirty-six executives worked at companies that produced a negative economic profit.
Ahrendts, Oppenheimer
Ahrendts was awarded $82.6 million last year, making her the highest-paid executive at Apple, and the 10th-highest paid in the U.S. After running London-based fashion retailer Burberry Group Plc for six years, she joined Apple to oversee its retail and online businesses in May 2014, becoming the first woman on the company's management team.
Her pay, which included a sign-on bonus and a make-whole grant for awards left behind at Burberry, is equal to 0.3 percent of Apple's $28.6 billion three-year average economic profit.
Josh Rosenstock, a spokesman for Apple, wouldn't comment for this story.
Oppenheimer, who retired in September after 18 years with the company, was paid $74.5 million, or 0.3 percent of Apple's economic profit. His replacement, Luca Maestri, was paid $17.1 million and doesn't appear on the ranking.
Cook received $65.2 million and delivered the best pay-for-performance among U.S. CEOs. Williams, who oversees the company's supply chain and quality control, and Cue, who runs its Internet software and services businesses, were each paid about $29.5 million, or 0.1 percent of the company's economic profit.
Before it's here, it's on the Bloomberg Terminal.
LEARN MORE