3 China Home-Price Charts to Explain Developer Rally Amid Stall
Bloomberg News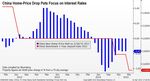 New-home prices in China probably fell in March as policy easing to spur sales last month will take time to filter through.
About three quarters of Chinese property developers that reported sales last month said their average sales price dropped from February, said Robert Fong, property analyst in Hong Kong with Bloomberg Intelligence.
With industry leaders such as Poly Real Estate Group Co. among the decliners, "this suggests to me an environment of falling prices," he said. The bureau of statistics will release price data on April 18.
Price Deflation
Residential property prices have fallen for 10 straight months through February, based on the government's benchmark gauge of prices in 70 cities nationwide.
The central bank lowered its benchmark one-year deposit rate 0.25 percentage point to 2.5 percent, effective at the start of March, to boost property demand. A similar cut was made last November.
Shares of property developers have rallied since mid-March, and Alan Jin, real estate analyst at Mizuho Securities Asia Ltd. said he expects "housing prices to bottom out as early as April/May" on a month-on-month basis, earlier than most expect.
Standard & Poor's has a more conservative view.
"The Chinese government and the central bank's recent measures aimed at boosting market sentiment should help release pent-up demand," property analyst Christopher Yip said in a report. "However, the positive impact will likely take time to materialize; more likely toward the second half of 2015."
Small Cities, More Tears
From June 2012 to May 2014, prices in so-called Tier 1 cities had the highest increases, a month-on-month average of more than 2 percent in the first quarter of 2013. Although prices have generally moved in accord since the start of last year, recent declines were worst in third-tier cities, which are less developed and have smaller buyer pools.
"We expect developers with operations in smaller cities to face more difficultly in destocking and improving profitability this year," Yip said. "Sales in these cities have not picked up markedly despite price cuts owing to severe competition and a pile-up of inventory."
Property Shares Rally
China said on March 30 that it was lowering the down-payment requirement for some second homes, further easing mortgage policies that included the rate cut effective at the start of the month and in November. That's spurred property stocks traded on the Shanghai exchange.
The People's Bank of China cut the minimum down payment to 40 percent from 60 percent for people who haven't paid off their existing mortgage but are buying a second home to improve their living conditions.
"It will take time for that to filter into demand and prices," said Tom Orlik, chief Asia economist for Bloomberg. "It's a mixed picture, with some major cities doing a little better and some smaller cities with high inventory and shrinking population still facing significant challenges."
— With assistance by Dingmin Zhang
Before it's here, it's on the Bloomberg Terminal.
LEARN MORE