Where Peer-to-Peer Loans Are Born
WebBank provides the money that gets it all started
By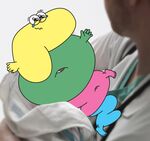 One of the most profitable banks in the country fits on the eighth floor of a Salt Lake City office building. It has no grand entrance for clients—it's mainly just cubicles, conference rooms, and a break area with machines that dispense free candy.
WebBank is like one of those machines for its primary owner, investor Warren Lichtenstein. Last year its 38 employees generated more than $400,000 in profit apiece, about four times the amount at JPMorgan Chase. While that added up to only $15.5 million, WebBank's return on equity was 44 percent—a level of profitability that dwarfs the 33 percent Goldman Sachs reported in its best year as a public company, and about five times the current average for U.S. banks.
The bank is so profitable because it dominates a rapidly growing, low-risk business: providing money to companies that arrange peer-to-peer loans. Apply for a loan with LendingClub, the biggest of those online markets, and WebBank issues it. Two business days later, LendingClub buys the loan and parcels it out to the investors who pledged to fund it. WebBank collects interest on the money for that window and earns a fee from LendingClub.
Early on, WebBank's executives made a shrewd choice to focus on specialty lending, says Gerry Smith, who served as WebBank's president and chief executive officer from 2005 to 2008. "They saw an opportunity to drive some niche business rather than compete with everybody else," he says. That strategy isn't without risks, because WebBank could find its business threatened if regulators decide to restrict the burgeoning peer-to-peer industry.
LendingClub disbursed more than $4 billion in 2014, most of which came from WebBank. Prosper Marketplace, No. 2 in the peer-to-peer industry, used WebBank while arranging $1.6 billion in loans last year. LendingClub and Prosper don't originate loans themselves because they don't have—and don't want—banking licenses. Turning to a third party to create the loans lets them avoid regulatory costs, and being viewed as technology companies rather than financial firms improves their image with investors. LendingClub, which went public in December, has a market value of about $7 billion. It posted a loss last year.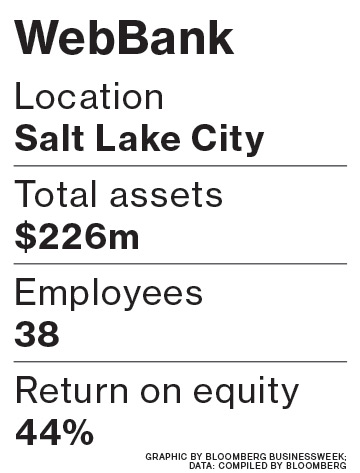 Among WebBank's other clients are PayPal, which relies on it for a program that extends credit to small businesses, and retailer Fingerhut, which encourages customers to buy everything from jewelry to electronics in monthly installments, with WebBank providing the credit at annual interest rates of almost 25 percent.
WebBank has a mere $226 million in assets on its balance sheet, and the short-term lending that makes up the bulk of its business doesn't require it to hold a big cushion against losses. Its profit more than tripled from 2010 through 2014, according to FDIC data. "One of the beauties of these partnerships is you don't have to devote much capital to it," says Smith, the former CEO. "You're more of a pass-through." Both Lichtenstein and WebBank, now led by Executive Chairman John McNamara, declined to comment.
In the late 1990s, Lichtenstein, then a thirtysomething activist investor with a reputation for buying small, underperforming companies and pushing them to make major changes, took control of a North Carolina discount retailer known as Rose's. The company soon sold off stores and acquired a lending operation, WebBank. In 1999, Rose's changed its name to WebFinancial as it shifted its focus away from selling merchandise to lending.
In 2008, Lichtenstein merged WebFinancial with his main hedge fund to help deal with investor withdrawals during the financial crisis. The resulting company, Steel Partners Holdings, is publicly traded, with Lichtenstein, now 49, serving as chairman and ranking among its largest shareholders. Along with WebBank, which it owns outright, Steel Partners holds stakes in manufacturers, energy businesses, and Nathan's Famous, the hot-dog chain.
Former employees describe WebBank as having a button-down culture rather than the freewheeling creativity of some of the Internet startups it counts as clients. The executives who manage the bank's partnerships make low-six-figure salaries, and once a month the company rewards its staff with a catered lunch, says Sean Salter, who left at the end of last year. Workdays typically last 10 to 11 hours, he says. "They're handling massive amounts of business, and they don't have a lot of overhead," Salter says. "It felt like we were running on a small budget."
If regulators decide to rein in the online lending industry, a natural place to exert pressure is WebBank, because its banking license subjects it to their oversight, according to Michael Tarkan, an analyst at Compass Point Research & Trading. "It's surprising to people how many lenders use this small funnel to originate a significant number of loans," he says. "It's a potential target for regulators."
One question is whether WebBank is involved enough in the lending process. Courts have disagreed over what it takes for a bank to call itself the lender when its partners are the ones arranging and servicing the debts, says Richard Eckman, head of the financial-services practice at law firm Pepper Hamilton. If a judge were to decide that WebBank cannot create loans unless it holds them longer and does more to vet borrowers, the business model for online peer-to-peer lending could fall apart. On the other hand, if the online lending boom continues to be so lucrative, WebBank will probably face more competition. "I have no doubt that other banks will be taking a hard look at this structure," Eckman says. "It's a way for a bank to make a lot of money."
The bottom line: Dominating a small but lucrative niche, WebBank made $15.5 million with 38 employees last year.
Before it's here, it's on the Bloomberg Terminal.
LEARN MORE