Ted Cruz Raised $4 Million in Nine Days, Report Shows
Federal reports also give glimpses of how successful other presidential hopefuls are with donors.
By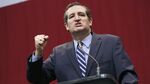 Republican Texas Senator Ted Cruz raised more than $4 million in the first nine days of his presidential campaign, a report Wednesday to the Federal Election Commission shows.
About 44 percent of the contributions came from donors giving $200 or less. Cruz's Senate campaign transferred in about $250,000, giving him an overall starting nut of $4.3 million. Among his contributors: Boston private equity king John Childs and Dallas investor Robert Rowling, both of whom were major Republican benefactors in 2012 and 2014.
The Cruz for President financial documents mark the first public accounting of the 2016 race. Others who have recently declared their campaigns, including Kentucky Senator Rand Paul, Florida Senator Marco Rubio, both Republicans, and Democratic former Secretary of State Hillary Clinton won't report to the FEC until July 15.
Still, the Wednesday filings, which reflect financial activity between Jan. 1 and March 31, offer clues about the fundraising abilities of other candidates and potential contenders.
Rubio, the Republican primary's latest entrant, has been traveling the country for months meeting with possible presidential donors and speaking to voters in important early voting states such as New Hampshire. His pre-existing political committee, which has helped pay for those efforts, on Wednesday reported raising $1.8 million in the first three months of the year.
Paul announced his candidacy earlier this month, and like Rubio, he's been financing his presidential fact-finding via his pre-existing political committee. It raised about $332,000 in the first three months of the year. (Cruz also has one of these; it reported raising $113,225 through March 31.)
Republican Ben Carson has raised more than $2 million—71 percent of which was from people giving $200 or less—since beginning his 2016 presidential exploration bid in early March. The Baltimore neurosurgeon-turned-conservative darling recently said he would announce whether he'll get in the race on May 4 in his hometown of Detroit.
Last week, Bloomberg reported that a cluster of Super-PACs had raised upwards of $31 million to help support Cruz's candidacy. 
—Greg Giroux contributed to this report.