business
Switzerland Attracts Fewer Firms as Politics Hurt Business Image
Jeffrey Vögeli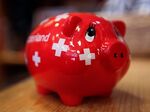 Switzerland attracted the fewest companies in at least a decade last year after voters passed measures that aim to limit immigration and the country starts revising corporate tax breaks.
The number of foreign firms setting up operations in Switzerland dropped 8 percent to 274, the Conference of Cantonal Economic Directors said in a report Thursday. The new arrivals created 780 jobs, down 21 percent from 2013.
Switzerland, the world's most competitive economy according to the World Economic Forum, is losing one of the motors that helped contribute to five consecutive years of economic growth. Firms are increasingly reluctant to enter a country that has given shareholders power to veto executives' pay packages just as the central bank forecasts a slowdown in the economy this year.
"It's like a world championship," said Rudolf Minsch, chief economist of business lobby Economiesuisse. "Placing at the top doesn't mean you'll win again next time. You have to train. It's the same with the business environment. We have a spot on our record with the mass immigration initiative and the say on pay."
The drop may be in part due to uncertainty over corporate tax, the strong franc and the ability to hire workers from European Union countries, the report said. Agencies that promote the Swiss economy abroad have also become more targeted in their efforts to shift the focus to quality from quantity, the report said.
Business Friendly?
In the last two years, Swiss voters have accepted one popular initiative that aims to limit immigration into the country and another that gives shareholders a say on managers' compensation. Switzerland is adding to the uncertainty by overhauling the way it taxes corporations to be more in line with practices abroad.
Unemployment, which averaged at 4.5 percent in 2014, is a key worry for the Swiss, a survey by Credit Suisse showed in December.
The end of the franc's cap against the euro in January is making Switzerland more expensive compared to countries that compete for globally mobile firms including Singapore, Ireland, the U.K. and the Netherlands.
Yahoo! Inc. and Weatherford International Plc are among companies that shift activities out of Switzerland. The Irish legal system is more consistent with that of the U.S., making it cheaper to work there, oil-field services company Weatherford said in a prospectus.
Delegations from other countries have been trying to persuade companies with operations in Switzerland to move, said Remo Daguati, who is in charge of promoting Switzerland as a business location for Switzerland Global Enterprise.
Massive Costs
"Low taxes were key to compensate for the massively higher costs of doing business in Switzerland," said Reto Savoia, managing partner on tax matters at Deloitte in Zurich. "If you just take top-line tax costs, Ireland is about the same as Switzerland and costs of doing business there are much lower."
Companies are still coming to Switzerland. At an event organized by the local promotion agency in Zurich last month, Danish pumpmaker Grundfos Holding A/S and Appspace Inc. were presented. Grundfos is opening a purchasing company in Steinhausen, close to Zug. Klavs Hornum, vice president for corporate purchasing, highlighted the proximity to the airport and the ready availability of talent.
Foreign firms still cite obstacles to bringing in capital and employees, however.
"Newcomers really have to be convinced that Switzerland is more attractive than alternative locations," said Deloitte's Savoia. "Competitive advantages have shrunk and we aren't best in class everywhere anymore. We are only competitive overall if have a very attractive tax system."
Voter support for limits on immigration has called into question the availability of talent.
"We are hearing the anxious question 'will we manage to get the necessary employees?'" said Eric Jakob, who heads promotion activities at the Swiss State Secretariat for Economic Affairs.
Before it's here, it's on the Bloomberg Terminal.
LEARN MORE