S&P 500 Makes Oil Appear Unusually Cheap to Merrill Strategist
David Wilson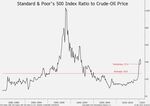 Oil is "extremely undervalued" by comparison with stocks even after rallying from March's lows, according to Savita Subramanian, chief U.S. equity strategist at Bank of America Corp.'s Merrill Lynch unit.
The attached chart shows how she reached this conclusion, presented in a report yesterday: by tracking the ratio between the Standard & Poor's 500 Index and West Texas Intermediate, a benchmark U.S. crude. The chart is based on WTI prices for immediate delivery, as compiled by Bloomberg.
Last month, the ratio climbed to its highest reading since March 2002. The peak occurred on March 17, when crude retreated to a six-year low of $43.46 a barrel. Yesterday, the indicator was 40 percent above its 30-year average -- displayed in the chart -- even after crude rose 29 percent from its low.
The S&P 500-WTI ratio was among 16 gauges of U.S. stocks that Subramanian cited in the report. None of the others made shares appear as expensive, according to her data. "The asset allocation decision is no longer as clear cut as it has been," the New York-based strategist wrote.
Integrated-oil companies' shares are preferable to crude for Russ Koesterich, BlackRock Inc.'s global chief investment strategist, because of the commodity's price swings. The rally in WTI followed a 60 percent plunge in less than eight months.
"Investors seem to be reacting to the relative value" among shares of companies that combine exploration, production, processing and oil-product sales, the New York-based strategist wrote two days ago in a blog posting. The Dow Jones Oil and Gas Titans 30 Index, a global indicator, rose 13 percent from March 17 through yesterday.
Before it's here, it's on the Bloomberg Terminal.
LEARN MORE