Rush to China's Bank Pushes U.S., Japan to Speed Trade Talks
Isabel Reynolds and Maiko Takahashi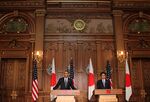 China's success in lining up 57 countries for a new infrastructure bank is piling pressure on the U.S. and Japan to advance a Pacific trade deal seen as critical for the allies to remain a center of gravity in Asia.
U.S. and Japan negotiators huddled in Tokyo this week, aiming to reach agreement on their portion of the 12-member Trans Pacific Partnership before Prime Minister Shinzo Abe meets President Barack Obama late this month. TPP's prospective members, which don't include China, have missed a series of deadlines since the U.S. announced its participation in 2009.
By not following the U.S. and Japan in refusing to join the China-led Asian Infrastructure Investment Bank, U.S. allies such as Germany have "created an impression that American diplomacy is failing and Japan is following this failed strategy," said Seiichiro Takagi, a China expert at the Japan Institute of International Affairs in Tokyo. "There is also a kind of a silver lining to this. I think it created the impetus to precipitate the negotiation process for the TPP," he added.
The U.S. Senate Finance Committee introduced a bipartisan bill Thursday in Washington designed to win support from Democrats opposed to Obama's trade agenda, including TPP.
The bill would let the White House send Congress trade pacts for votes without amendment, known as trade promotion authority. It also would give Congress the right to revoke the so-called fast-track process if enough lawmakers find the president ignored negotiating goals. Obama said in a statement he was pleased with the legislation.
Transparency Concerns
U.S. officials have taken every opportunity in recent weeks to underscore that TPP is a vital pillar of its "rebalance" to Asia, while stressing concerns over transparency and governance -- echoed by Japan -- for shunning the AIIB. It has been wrangling with the Japanese over the trade deal for two years. In contrast, China aims to set up the rules for the AIIB in less than three months, expanding its influence in the region with the backing of U.S. allies Australia, South Korea and the U.K.
U.S. Defense Secretary Ashton Carter raised eyebrows in Tokyo when he strayed from military issues to talk about the importance of TPP in a joint press conference with Japanese Defense Minister Gen Nakatani on April 8. Two days earlier Carter told an audience in Arizona the deal was "as important to me as another aircraft carrier."
'End Game'
On April 3, Abe met with visiting U.S. House Minority Leader Nancy Pelosi and told her at the opening of the meeting that TPP has a security and strategic significance as well as an economic one.
While TPP talks drag on, China and the other founding members of the AIIB plan to sign the articles governing its management by the end of June. The new bank plans to make $100 billion available for infrastructure lending.
"A swift agreement on TPP is needed," to maintain the influence of Japan and the U.S. as the AIIB makes progress, said Akimasa Ishikawa, deputy chair of the ruling Liberal Democratic Party panel on foreign affairs."If we speed up TPP, it can become stronger as a rival center of gravity," he said in an interview on April 14.
Acting Deputy U.S. Trade Representative Wendy Cutler, who began the latest round of TPP talks with her Japanese counterpart Hiroshi Oe on Wednesday in Tokyo, said on March 30 the two sides were "in the end game."
Farm Lobby
Japan, which has already diluted the power of its farm lobby, was set to propose allowing more imports of U.S. rice, its most politically sensitive agricultural product, in a bid to reach a deal, officials told Bloomberg before the talks. While the trade promotion authority bill that would fast-track TPP through the U.S. congress, was submitted this week, its prospects are not yet clear.
The task the U.S. and Japan face is not only to overcome domestic objections to a bilateral agreement, but to bring the governments of the other 10 nations, which may need approval by their parliaments, into line and further expand TPP's membership.
"It is seen as an indicator of U.S. leadership," said Sheila Smith, senior fellow at the Council on Foreign Relations in Washington, adding it was "a response to doubts about U.S. willingness and ability to manage the complexities of Asia."
The participants in negotiations are Australia, Brunei, Canada, Chile, Malaysia, Mexico, New Zealand, Peru, Singapore and Vietnam, making up roughly 40 percent of the world's gross domestic product.
'Magnetic Field'
TPP "has the potential to have a very strong magnetic field effect on other countries who, for now, are outside of the agreement," Deputy Secretary of State Antony Blinken said in a speech in Washington on Tuesday. "And that, too, as a strategic proposition, is extraordinarily important."
Despite China's numerous territorial disputes with its neighbors, expanding TPP may be far from easy. Philippine trade chief Gregory Domingo told the Nikkei newspaper last month his country would not seek to join the TPP, instead favoring the Regional Comprehensive Economic Partnership, a separate initiative that includes China.
"It is important to have the U.S. commit to Asia to avoid it becoming an economic region led entirely by China," Seiji Kihara, vice chairman of the LDP's finance panel, said in an interview. "'TPP is a very effective way of doing that and we should press on with it.''
Before it's here, it's on the Bloomberg Terminal.
LEARN MORE