Ruble's Rally Has Nabiullina Seeing Room for More Rate Cuts
Olga Tanas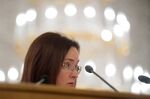 The strengthening ruble gives Russia room to cut interest rates if there are no other shocks to the economy, central bank Governor Elvira Nabiullina said.
The ruble's strength is contributing to a slowdown in inflation, and "that's why with other things being equal and no new significant negative factors, the ruble's strengthening will allow us to cut the key rate," Nabiullina told reporters on Thursday in Washington, where finance ministers and central bankers are gathering for International Monetary Fund meetings. "The ruble is in a more or less balanced situation," she said.
After raising rates six times in 2014 to prop up the currency as it slid amid tumbling oil prices and U.S. and European sanctions over Ukraine, the Bank of Russia shifted to easing with two cuts this year to relieve pressure on the economy. The change of course has raised concern that the central bank is caving to political pressure and compromising on its inflation goal.
The ruble has surged 17 percent this year against the dollar. The currency plunged 46 percent in 2014, helping push inflation on an annual basis to a 13-year high of 16.9 percent last month. The ruble traded 3.9 percent weaker at 51.8 against the dollar at 5:30 p.m. in Moscow.
The currency's "fundamental value" is close to 50 a dollar and the ruble will continue to fluctuate around that level, Economy Minister Alexei Ulyukayev said in comments televised by Russian state broadcaster Channel 1.
Rate Path
The central bank has cut its benchmark rate to 14 percent this year, from 17 percent in December, easing policy as the economy slides into its first recession in six years.
Nabiullina has previously said the central bank will reduce rates further if inflation risks continue to abate. On a weekly basis, inflation is easing. Price growth in the week ended April 13 decelerated to a seven-month low of 0.1 percent.
"There are grounds to cut rates," Deputy Finance Minister Maxim Oreshkin said in an interview in Washington Thursday. "If the ruble stabilizes at current levels or continues to strengthen, inflation will be below 11 percent by year-end."
Before it's here, it's on the Bloomberg Terminal.
LEARN MORE