politics
Move Over, Baseball: Bloomberg Politics Poll Shows 67% of Americans Now Say Football Is National Pastime
But for the old national pastime, that's actually a good thing.
By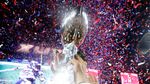 According to a new Bloomberg Politics poll, 67 percent of Americans say football is the national pastime, as opposed to 28 percent who say baseball is. 1 I'm pretty sure I'm supposed to be shocked by this number—yet more proof that baseball is dying!—but honestly, I'm surprised that 28 percent of people will come out in defense of baseball. And I love baseball.
Football—specifically the NFL, though one could argue that the NFL is the national pastime and second place is college football—not only is the biggest sport in our country, it's essentially the biggest anything. The top 21 most-watched shows of all time are all Super Bowls—the top spot is essentially held by whatever the most recent Super Bowl was—and thanks to DVRs and football's cemented status as perpetual Event Programming in a cable television world desperate for it, the NFL is basically keeping cable providers in business. (If you have cable, you pay six bucks a month for ESPN whether you watch it or not, almost entirely because of the NFL.) Once the NFL season begins, its nationally televised games on NBC and ESPN instantly become the most-watched shows on television that week. Americans might have their issues with the safety of football, but they're not voting with their feet: They want the NFL on their televisions. The NFL behemoth cannot be stopped. The NFL isn't just America's pastime; it's difficult to figure out what would even be second place.
But these questions about "America's pastime" always have a quiet undercurrent: What happened to baseball? The word "pastime" has been associated with baseball for so long that we often consider them the same even if we don't like baseball. But take out the word "pastime" in "America's pastime" and replace it with "favorite." Suddenly there's no question: Not only is the answer football, but no one's slagging baseball as somehow past its prime either. Both football and baseball are far superior sports—in quality of play, in ability to follow along on both a macro and micro level—than they were 40 years ago, but people only believe that to be true about football. Baseball, as Hardball Talk's Craig Calcaterra famously wrote, has had people "lamenting its demise approximately fifteen minutes [after its first game]. And they haven't stopped, not even for a moment, since then."

It has been a long, long time since baseball was truly America's pastime, and it has nothing to do with anything baseball has done wrong. It has been since … television. Television universalized and quantified viewing experiences, and ratings' ability to capture just how many people are watching at a certain time incentivized the "event" nature of football rather than the everyday perpetuity of baseball. The NFL is terrific to watch on television in a way baseball isn't and never was, and we are a nation of television watchers. The minute people realized how easy football was to follow on television—even if it really tells you very little of what's actually going on—was the minute baseball stopped being America's pastime.
The irony of this: This is probably the best possible thing that could happen for baseball. This is a sport that is constantly looking to its past, typically to its own detriment. No sport inspires more cranky old men than baseball. Every time you watch a baseball game, inevitably, someone will come on and tell you things were better when they played or watched the game 30 years ago. (They were saying the same things 30 years ago.) This is a terrible way to market your game: What you are watching is an inferior product. Baseball's obsession with its past, its perpetual need to recapture its status as "pastime," is actually its problem. Baseball is in incredible shape now, watched by more humans than have ever watched baseball, with record revenues every year, but no one, least of all those who love the game most, who seems to believe that, simply because its numbers can't compare with football's. Well, nothing can compare with football's numbers. Stop beating yourself up about it.
Baseball is better off if it just stops trying to recapture a time that has passed—through no fault of its own—and concentrates on accentuating its strengths. The league's new "THIS" advertising campaign  seems to finally start to understand this, showing off the game's best players now rather than sepia-toned newsreel coverage. Football is America's pastime, and has been for many years now. The quicker those involved with baseball realize that, make their peace with it and move on, the better.
The Bloomberg Politics national poll of 1,008 U.S. adults was conducted April 6-8 by Selzer & Company, a Des Moines, Iowa-based research firm. The margin of error is plus or minus 3.1 percentage points. Read the full poll questions and methodology here.
Before it's here, it's on the Bloomberg Terminal.
LEARN MORE