Mattel Posts Smaller-Than-Expected Loss as Barbie Woes Abate
Matt Townsend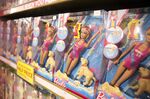 Mattel Inc. rose after sales declines at two of its troubled brands slowed and it posted a smaller first-quarter loss than analysts projected.
The world's largest toymaker said Thursday that its loss was 8 cents a share, excluding some items. That was better than analysts' estimates for a loss of about 10 cents. Revenue fell 2.5 percent to $922.7 million, topping analysts' $900.5 million average projection.
Mattel is undergoing a management shakeup under Chief Executive Officer Christopher Sinclair, who replaced Bryan Stockton on an interim basis in January and was made permanent earlier this month. Sinclair, a longtime board member, has first focused on reducing bureaucracy to improve product innovation.
The toymaker's biggest problem brand, Barbie, showed signs that the worst of its sales declines may be over. The unit's sales fell 14 percent, slower than the 16 percent drop they had last year. Sales at Fisher-Price slid 2.7 percent after a 13 percent plunge in 2014.
"It's not a great quarter by any means, but it's also not the disaster many were expecting," said Sean McGowan, an analyst at Needham & Co. Mattel also didn't cut its dividend, which some observers had expected, he said.
The stock rose 5.8 percent to $26.75 at the close in New York. The shares have declined 14 percent this year, compared with an advance of 1.1 percent for the Standard & Poor's 500 Index.
Dollar Woes
Mattel continued to be hurt by the strength of the dollar. The company generates about half of its sales outside North America, and revenue from abroad is worth less when the dollar gains in value. Instead of falling, sales would have gained 5 percent if the effect of currency fluctuations was taken out, the company said.
Currency effects will reduce sales by as much as 6 percent and earnings per share by as much as 35 cents this year, executives said on a conference call.
Mattel also said it entered an exclusive partnership with Quirky to jump-start innovation. Quirky, founded in 2009, lets people submit product ideas through its website and helps bring the best inventions to market. Now the firm will take pitches for toys aimed at one of Mattel's brands, such as Hot Wheels, Barbie and Fisher-Price.
Before it's here, it's on the Bloomberg Terminal.
LEARN MORE