John Kasich Said to Plan Fundraising as He Considers Presidential Run
Mark Niquette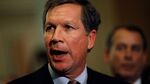 Ohio Governor John Kasich is preparing to create a political organization to raise money to pay for travel and other activities as he considers whether to run for president in 2016.
The plan for the organization was first reported by the Northeast Ohio Media Group in Cleveland and confirmed Thursday by a person with direct knowledge of it. The person asked not to be named because a formal announcement hasn't been made.
Kasich, 62, a two-term governor and former congressman, investment banker and Fox television host, has said he's seriously considering a run for president. He hasn't given a timetable for deciding.
"I would not get in this if I didn't think I could win," Kasich told reporters during a visit to New Hampshire last month.
Kasich, a former House of Representatives Budget Committee chairman, has been traveling on behalf of a U.S. constitutional amendment requiring a balanced budget and visiting early primary states touting "Ohio's comeback model."
On Monday, Kasich addressed the Detroit Economic Club. He's speaking to Republican groups in South Carolina on Friday and Saturday before heading to New Hampshire for the First in the Nation Republican Leadership Summit in Nashua with the three announced presidential candidates and others considering a run. Kasich then heads to Washington next week.