Kaisa Keeps Creditors Guessing as China Dollar Default Looms
David Yong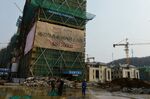 Kaisa Group Holdings Ltd. has until Monday to find $52 million for missed payments on two of its dollar bonds as it seeks to avoid default.
The troubled developer must pay the interest on its 2017 and 2018 notes that was due on March 18 and March 19 respectively after the expiry of a 30-day grace period. The delay is the latest twist in a saga that has seen Kaisa's founder Kwok Ying Shing make an unexpected return to the company, projects in Shenzhen blocked, a near default on a loan in December and a takeover offer from Sunac China Holdings Ltd. Standard & Poor's doesn't expect Kaisa to pay and downgraded it to default last month.
"Kaisa in the last four months has been mysterious and unpredictable, and Kwok coming back is equally surprising," said Ashley Perrott, the head of pan Asia fixed income in Singapore at UBS Global Asset Management Ltd. "It wouldn't be a good signal if they didn't pay the coupon."
The mishaps threaten to make Kaisa the first Chinese developer to default on its dollar-denominated bonds as it seeks ways to service interest-bearing debt to onshore and offshore lenders that totaled 65 billion yuan ($10.5 billion) as of Dec. 31. Kaisa has also been tied to a corruption probe amid President Xi Jinping's crackdown on graft, called the harshest since the 1949 founding of the People's Republic of China by official Chinese media.
Kwok's Back
Kwok exited the company he founded more than 15 years ago on Dec. 31, citing health reasons. Kaisa said in a Hong Kong stock exchange filing April 13 that he'd been appointed chairman and executive director.
In the interim, Sunac agreed to buy a controlling 49.3 percent stake from the Kwok family on Jan. 30, subject to a debt restructuring that would require investors to accept lower coupons and defer repayment by up to five years. Kaisa has said offshore creditors would stand to recover just 2.4 percent in a liquidation.
Independent research firm CreditSights Inc. said Kwok's reappointment should boost confidence and may be good news for debt investors, while Citigroup Inc. said he's likely to regain control of the builder. Sunac Chairman Sun Hongbin said on April 15 his company's takeover of Kaisa is still proceeding.
Kaisa was to pay $16.1 million of interest on its $250 million of 2017 notes on March 18 and $35.5 million on its $800 million of 2018 securities March 19. Given the end of the 30-day grace period falls over a weekend, Kaisa technically has until Monday.
Paring Gains
Kaisa can't comment on the payments and will make an announcement if it needs to, Zhou Ting, a spokeswoman in Shenzhen, said via e-mail Thursday.
The company's 2017 bonds fell 1.4 cents to 65.09 cents on the dollar as of 5:45 p.m. in Hong Kong, paring this week's advance to 1.8 cents, Bloomberg-compiled prices show. Its 2018 debentures fell 0.7 cents to 62.65 cents on the dollar.
Brandon Gale at Houlihan Lokey, a financial adviser to Kaisa, declined to comment. Bert Grisel at investment bank Moelis & Co., which is advising offshore bondholders, also declined to comment. Neil McDonald, legal adviser to bondholders at law firm Kirkland & Ellis LLP, didn't reply to an e-mail and phone calls seeking comment.
More Defaults
Kaisa removed three management staff appointed by Sunac, local news outlet Caixin reported on Wednesday, citing an internal Kaisa company notice. The reported dismissals were "normal people movements," Kaisa spokeswoman Zhou said.
The earnings and profitability of some Chinese property developers may deteriorate further in 2015 and more defaults can't be ruled out, S&P said in a report today. It said developers' annual results for 2014 indicate many are in "significantly worse" shape than the previous year.
"The slack operating performance in recent months has weakened the credit profiles of many Chinese developers," S&P analyst Christopher Yip said. "Continuing slower sales growth and swelling leverage could lead to further negative rating actions over the next 12 months."
Kaisa's shares have been suspended from trade in Hong Kong since March 31, the same day it postponed the release of its 2014 results to give auditors more time to verify its accounts. There may be a "significant adjustment" to its unaudited numbers, the company said, without specifying when it will release the results.
The soap opera has proved lucrative for some. While Kaisa's bond volatility has surged this year, its 2018 notes had returned almost 13 percent over the period through April 16. That's almost triple the average gain in Chinese high-yield notes, according to an index compiled by Bank of America Merrill Lynch.
Before it's here, it's on the Bloomberg Terminal.
LEARN MORE