Iraq Pays Doctors to Keep Its Enemies Alive in Budget Bind
Zaid Sabah and Jack Fairweather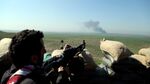 The northern Iraqi city of Mosul is under the renegade control of Islamic State militants yet doctors there still receive their government salaries from Baghdad as they care for injured and ill Islamic State fighters.
The government outlays, like those to teachers and other public employees in all areas under Islamic State control, reflect Baghdad's dilemma as it tries to hold together a country that appears to be unraveling.
On the one hand, the central government cannot abandon its employees. On the other, it unintentionally lends legitimacy and normalcy to Islamic State rule, entrenching its control.
"Islamic State propaganda plays up the fact that it's running these state institutions," said Charlie Winter, a researcher at the Quilliam Foundation in London which focuses on Islamic extremism. "Working to inhibit its ability to portray itself as a fully-functioning state is essential."
The Baghdad government says the dilemma is even more acute because some of the money it sends as salaries appears to be siphoned off by Islamic State.
"The militants are seizing part of the salaries to fund their terrorist attacks against the people of Mosul and Iraqis in general," Prime Minister Haider al-Abadi said at a press conference in Erbil last week.
Seized by Inertia
His spokesman, Saad al-Hadithi, said by telephone that if the government cut the salaries, on which tens of thousands of families depend, Islamic State would use it as propaganda, saying that the people had been abandoned by their own government. He said that the seizing of salaries by the militants was still unconfirmed and being investigated.
The question of how to pay public employees without helping Islamic State is only one of many budgetary challenges the government faces as it contends with a plunge in oil prices and the cost of fighting the militant group.
Iraq's Finance Minister Hoshyar Zebari said on Wednesday in Washington that the government was facing a budget deficit of $25 billion, compared to a total budget of $105 billion. He said Iraq is in talks to receive as much as $700 million in assistance from the International Monetary Fund, which is advising cuts in public spending.
"We need to cut the budget but ministries are resisting even when money is going to support areas that militants have seized," said Jabbar al-Abadi, a Shiite lawmaker, by phone from Baghdad. The government is "seized with inertia," he said.
Operations at Gunpoint
In 2015, the government will spend about $5 billion, some 10 percent of salary outlay, on the 300,000 state employees in provinces wholly or partly under the control of Islamic State, according to figures provided to Bloomberg by government officials. Those figures exclude wages for security and defense officials.
Many of the government employees have fled to other parts of the country. A third of Mosul's medical staff -- about 3,000 people -- have left, according to health ministry spokesman Ahmed Rudaini. The city's nine hospitals continue to operate on a skeleton staff, he said.
One doctor said that Islamic State forced her to treat injured militants and their families before ordinary residents.
"If you don't work or give priority to them you will be executed," said the doctor, who asked not to be identified for security reasons. Some operations on militants had been performed at gunpoint, she said.
Tightening Noose
Baghdad's dilemma is all the keener because, while its money helps prop up Islamic State, analysts doubt that ending the payments would fatally weaken the militants.
The tightening noose around the group has already forced it to establish an "internal economy that insulated it from outside pressure," said Winter. "The group is fighting for its existence and doesn't care about whether residents are receiving public services."
Last week, Iraqi government forces recaptured the city of Tikrit from the militant group, and said it's preparing an operation to claim back the western province of Anbar.
In the meantime, those who remain under the group's control are forced to get by with little or no medical support partly because essential drugs that the health ministry has budgeted for Mosul are not getting through to the city.
A senior employee of Iraq's state company for marketing drugs and medical supplies said shipments bound for Islamic State territory were being redirected to the southern, heavily-Shiite city of Kerbala. From there the supplies are sold on the black market, said the employee, who asked not to be name for security reasons.
Mirroring a spike in prices for food and oil, drugs in Mosul have therefore become unaffordable, according to doctors.
As a result, "we prescribe paracetamol for almost everything," said the one doctor, referring to a common pain reliever. "That's all we can do."
Before it's here, it's on the Bloomberg Terminal.
LEARN MORE