Greek Bond Yields Are Surging Today
by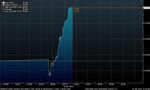 Euro area bonds are making headlines this morning for two very different reasons.
On the one hand, the average yield on all outstanding German sovereign debt has turned negative. In fact, the German 9-year bond now has a negative yield for the first time.
On the other, Greek bonds are diving, with the three year bond yield surging to about 28%, a move that reflects growing concerns about the country's situation.
This jump in yields comes on the back of an S&P downgrade of Greece to CCC (with negative outlook) that occurred after European markets closed yesterday and further strong words from German Finance Minister Wolfgang Schaeuble.
For more, read this QuickTake: Greece's Fiscal Odyssey
Before it's here, it's on the Bloomberg Terminal.
LEARN MORE