Areva Is Costing France Plenty
The company thought it had a winning nuclear reactor technology
By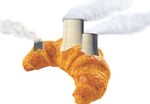 Nuclear plants supply almost three-fourths of France's electricity, and they boast a near-spotless safety record and some of the cheapest electric rates in Europe. In 2001 the government created a state-owned company, Areva, to export French reactors and nuclear know-how to the rest of the world. Those ambitions are now in tatters, offering an object lesson in the dangers of French dirigiste industrial policy.
Beset by a troubled new reactor design and other expensive problems, Areva posted a €4.8 billion ($5.1 billion) loss in 2014 on sales of €8.3 billion. Revenue is expected to shrink 5 percent this year, and the company says it expects to keep hemorrhaging cash. The French government plans to announce a rescue plan before the end of April that's likely to include asset sales and a bailout from state-owned utility Electricité de France (EDF). "There have been significant strategic errors," François Brottes, who heads the French Parliament's economic affairs commission, said at a conference in Paris on March 31. Added Brottes: "Questions have to be asked about the state's oversight."
Areva, along with competing reactor builders Westinghouse Electric and General Electric, was hit hard when orders dried up after the 2011 Fukushima accident in Japan. Cheap shale gas and development of renewable energy have compounded those woes. But "you can't really blame Areva's plight on Fukushima," says Steve Kidd, a British nuclear consultant and former executive of the World Nuclear Association, a London-based trade group.
Under longtime Chief Executive Officer Anne Lauvergeon and her successors, Areva bet heavily on a high-end new design, the Evolutionary Pressurized Reactor, that has been plagued with delays and cost overruns. Lauvergeon, who left Areva in mid-2011 when her contract wasn't renewed, didn't respond to messages.
French authorities reported on April 7 that flaws were found in some of the steel used in the reactor vessel of an EPR being built in Normandy. That reactor is five years behind schedule, and its price tag has ballooned from $3.5 billion to $9.3 billion. Areva also is facing an investigation of its 2007 acquisition of Uramin, a Canadian uranium mining company. In 2011, Areva wrote off almost all of the $2.5 billion purchase price after concluding that the ore deposits were of negligible value. The government's chief auditor, who faulted management for inadequate oversight and possible "dissimulation," asked prosecutors to look into the Uramin purchase.
The next step for Areva may be a tieup with EDF, its top customer—an idea that horrified the utility's investors, who dumped the stock after Energy Minister Ségolène Royal suggested it in March. Other government officials have suggested that Areva might work with EDF on engineering and maintenance, stopping short of a full merger.
The company still makes money supplying fuel and reprocessing waste for nuclear plant owners. It's already clear, though, that Areva won't be selling many new reactors. North American and European utilities stopped ordering them after the Fukushima accident, and the EPR's problems have cast a pall over the company's prospects in China, which now accounts for more than half of the new reactors expected to come online by 2030. Thanks to past collaboration with Areva and other Western suppliers, the Chinese have developed the technology they need to build their own reactors, says Steve Thomas, a professor at the University of Greenwich in England who studies the industry. The reactors built by Areva and Westinghouse "are just too expensive for the Chinese," he says.
The French government's 80 percent ownership of Areva helped mask its problems, consultant Kidd says. "Everyone was laughing" at the company's projections for reactor sales, he says. "Everyone in the know could tell the chickens were going to come home to roost. I don't think that would have happened in a private business."
—With Francois de Beaupuy and Tara Patel
The bottom line: Areva's bid to be the globally dominant maker of reactors was undone by cost overruns and strategic blunders.
Before it's here, it's on the Bloomberg Terminal.
LEARN MORE