Finland Told IMF Intervention a Risk as Election Gets Closer
Kati Pohjanpalo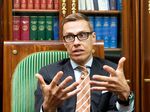 The head of one of Finland's biggest business park operators says the government is running out of time to fix the ailing economy and even warns it may need international support further down the road.
"I'm expecting to see a full-blown budget crisis and a full-blown fiscal crisis with a significant debt problem for Finland unless somebody steps up to the plate," Keith Silverang, chief executive officer of Technopolis Oyj, said in an interview. The Nordic nation has "two to three years, unless something major happens. Then we'll be negotiating with the International Monetary Fund."
After standing shoulder-to-shoulder with Germany through Europe's debt crisis, Finland has emerged as a struggling economy unable to replace the industries it once relied on for growth. Finnish output will expand just 0.8 percent this year, or about half the pace of the rest of the euro zone and far less than economies like Spain and France, the IMF estimates.
Business leaders blame an environment that makes investment risky, with a lack of clarity on key areas such as tax legislation. Companies face a "costly bill" if politicians don't come up with a clearer tax policy, said Harri-Pekka Kaukonen, CEO of Sanoma Oyj, a Finnish media company.
Kaukonen faults what he calls a "cheese-slicer approach" that supports "mediocrity and the lowest common denominator." It's led to an environment in which "both Finnish consumers and companies are currently very careful with investments," he said in an interview.
Spineless Politicians
Prime Minister Alexander Stubb, who has led Finland's government since his predecessor Jyrki Katainen stepped down in June, has dubbed many of his fellow politicians as "spineless" for failing to follow through on promises with viable legislation. None of the coalition's planned reforms in key areas such as health care has made it through parliament.
The result has been a marked deterioration in Finland's public debt, which the European Commission estimates will swell to 62.6 percent of gross domestic product next year from 48.5 percent in 2011. Standard & Poor's stripped Finland of its AAA credit rating in October.
Aki Kangasharju, Nordea Bank AB's Helsinki-based chief economist, has said the economy is in the midst of its longest recession, surpassing that of the 1990s. Back then, a banking crisis and an attack on Finland's currency at the time, the markka, brought it close to having to accept an IMF program in 1993, according to a Bank of Finland report.
The inaction that since 2011 has characterized the ruling coalition, which comprises four parties after infighting led to the loss of two, has driven many voters away.
Millionaire PM?
Polls show Sunday's election will result in a new government led by the Center Party, whose 53-year-old head, Juha Sipila, is a self-made millionaire with a background in engineering. He's playing up his business savvy as a strength that will help his party cut through political brinkmanship and push bills through parliament.
Kaukonen says businesses are hoping the next government will embark on "a genuine dialogue with the business world" when deciding tax policies.
The country has yet to recover from the decline of what were once its biggest industries: consumer electronics and paper. Silverang of Technopolis says Finland must focus on supporting growth businesses to fill that gap, especially in the technology industry that was once dominated by Nokia Oyj.
Tax Holidays
"You can do tax holidays or tax credits, where commercial success is rewarded, and you can do soft lending," he said. "Anyone who is funding growth companies should also have tax breaks, or tax holidays."
For now, the country's economic plight is killing jobs. Finland's main unemployment gauge rose to 10.1 percent in February, the highest level in the Nordic region. Sipila has promised to create 200,000 private-sector jobs over the next 10 years, after the country lost 100,000 since 2008.
According to Silverang, Finns have a history of doing best when their backs are against the wall.
"I guess we'll see them at their best, because their back looks like it's headed straight for the wall," he said.
Before it's here, it's on the Bloomberg Terminal.
LEARN MORE