Drought Widens Across U.S. as Western States See Little Rain
Brian K. Sullivan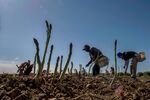 Drought conditions widened across the U.S. as the West saw little rain even as areas east of the Mississippi River benefited from storms.
About 37.5 percent of the 48 contiguous states are now in drought, up from 36.9 percent last week, said the U.S. Drought Monitor in Lincoln, Nebraska. Areas covered by the two worst categories of drought were little changed at about 9.1 percent.
"Significant amounts of rain fell from Iowa across Minnesota, Wisconsin and into Michigan," according to the weekly report. "The impacted areas saw improvement in Moderate Drought and Abnormal Dryness in the path of the storm. Other areas remained unchanged."
Drought is at its worst in California, where 66.6 percent of the state is covered by the two most severe categories of dryness. More than 77.2 million people in the contiguous states live in areas affected by drought, the monitor said.
There are four categories of drought ranging from moderate to extreme. The monitor also tracks abnormal dryness, which currently covers almost 59 percent of the lower 48 states.
Before it's here, it's on the Bloomberg Terminal.
LEARN MORE