politics
Doug Hughes, the Campaign Finance Reformer Nobody Knew
As the panic fades, what did the gyrocopter incident achieve?
By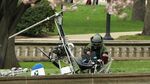 MANCHESTER, N.H.—The campaign finance reform movement is, by now, pretty used to stunts. At the Manchester offices of the New Hampshire Rebellion, hats like the ones worn by Doris "Granny D" Haddock commemorate her walk across America to raise the profile of reform. Ink stamps, which mark money so that it can't be used to "bribe politicians," are provided by the Stamp Stampede campaign. (The stamps are not legally binding.) This weekend, the New Hampshire rebellion will rally across the state border with Massachusetts and march to the First in the Nation summit where almost every Republican candidate for president will be speaking.
None of these activists would have thought of flying a gyrocopter to the Capitol to deliver 535 letters to members of Congress. Doug Hughes, the man who briefly panicked the Capitol's security teams with the stunt, e-mailed President Barack Obama to warn him. "The letter is intended to persuade the guardians of the Capitol that I am not a threat and that shooting me down will be a bigger headache than letting me deliver these letters to Congress," wrote Hughes. 
Yet while Hughes's reform website pointed readers to the work of Root Strikers, a reform group supported by Larry Lessig, there's no indication that he reached out to reformers himself. In an e-mail, Lessig said that he had heard nothing about the Hughes flight until Bloomberg asked him. Daniel Weeks, the executive director of the New Hampshire Rebellion, was similarly confused.
"While I certainly don't condone flying gyrocopters around government buildings," said Weeks, "the fact that a postman is willing to risk his life to draw attention to campaign finance reform suggests to me the issue is on the up."
In other words, there is no scramble to get away from Hughes's crusade. No one thinks it was smart, but outside of the beltway, there's no discussion of the "danger" posed by a doddering mailman with what he called a "flying bicycle." Journalism ethics analysts have been criticizing the Tampa Bay Times for not giving the authorities more than about 30 minutes' heads-up about Hughes, whom the paper had profiled. "There are too many things [the paper] didn't know," former Society of Professional Journalists ethics chairman Fred Brown told the Washington Post. "Was he carrying an incendiary device or a weapon? There are many ways to weaponize or create a danger." 
And yet, well—Hughes didn't do that.
Not two years have passed since Miriam Carey, a Connecticut woman, led Capitol Police on a tragic chase that ended when they riddled her black Infiniti with bullets. The Hughes flight ended with a smaller and less deadly panic. Hughes knew some of that would happen; he had told the Tampa Bay media that he would "violate federal airspace" to pull off the stunt. It was his version of a rebellion walk. The reformers with more staid approaches to getting media attention are not particularly worried that Hughes will hurt them. After a point, the white-knuckle panic about incidents that were meant to be disruptive but peaceful has to play itself out.
Before it's here, it's on the Bloomberg Terminal.
LEARN MORE