Climate Change Blamed as New Flood Plains Plague Mozambique
Tom Bowker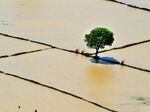 Over the last seven years the Mozambican village of Guguruni has housed hundreds of people whose homes elsewhere were destroyed by floods. This year it succumbed.
The plight of its inhabitants, who again are seeking a place to settle, underscores the task confronting authorities straining to find dry land for people living in areas hit by seasonal rainfall that the government of the southern African country says is becoming increasingly severe.
Mozambique's National Institute for Disaster Management blames climate change for the worsening floods, which this year wiped out crops and left tens of thousands homeless. The agency has had to redraft maps devised seven years ago to identify new zones out of reach of the rising waters, said Mauricio Xerinda, a director.
"When we did the evaluation in 2008, those areas were impossible to be flooded," Xerinda said in an interview this month in the capital, Maputo. "When people say 'climate change,' we're living the reality of what that is. It's not just talk -- we're seeing this."
Floods may contribute to a half-percentage point drop in Mozambique's economic growth rate to 6.5 percent, the World Bank's chief economist in the country, Enrique Blanco Armas, was cited as saying by news agency Lusa. A deluge that started in January and caused Mozambique's worst floods in a decade forced the emergency evacuation of about 50,000 people and affected a further 100,000, Xerinda said.
Food Aid
As long ago as 2010, the World Bank said that Africa was becoming the most exposed region in the world to the impacts of climate change.
"In Sub-Saharan Africa extreme weather will cause dry areas to become drier and wet areas wetter," the bank said at the time.
In Guguruni, floods destroyed the rice crop, forcing villagers to live off aid from by the United Nations World Food Programme, working through its local partner, the Adventist Development and Relief Agency. That was part of food assistance the WFP provided to almost 55,000 people in six flood-affected districts between January and March.
The village, a 30-minute helicopter flight from Quelimane, capital of Zambezia province, is home to 288 families -– many re-settled there after floods in 2008 and 2013.
'Took Everything'
Conselho dos Santos, 37, has lived in Guruguni for two years, and shares a two-room house built from mud and sticks with six family members. His home is among few left standing, even after water reached half-way up the walls at the flood's peak.
The waters burst through a dike, which Dos Santos wants authorities to rebuild and reinforce. "If they do that, the government can relax. If not, they'll have to feed us every year."
Mariano Magalhaes, a 75-year-old who has lived in Guguruni all his life, said he has never seen flooding like this year's. "It took my house and everything with it. I have only what I stand up in."
A surge along the River Licungo in January swept away thousands of homes and tore down a bridge carrying Mozambique's main north-south highway at the town of Mocuba in Zambezia. Severed power lines left households in the north of Mozambique without electricity for a month.
'What's This?'
Kenmare Resources Plc, the Dublin-based titanium mining company whose main project is on the coast of northern Nampula province, lost power for a total of seven weeks this year because of floods.
For parts of the province, this year's floods were unprecedented, said Xerinda at the disaster agency.
"There are places in Nampula, which have never had a single flood in their history,"he said. "This year there was. People are saying, 'What is this? Where did it come from?'"
The disaster agency is seeking to teach locals to use new methods to build their homes, baking the mud bricks they make in kilns like Mozambicans who live further south do, to make them less likely to crumble during the heavy rains.
"You don't have the same situation now in the Zambezi valley, because there the bricks are fired," said Xerinda. "We're working with the ministry of public works to try to introduce this technology" by taking community leaders and demonstrating the method. "When you educate the leader, you educate the people."
Before it's here, it's on the Bloomberg Terminal.
LEARN MORE