Chris Christie Ally David Samson's Loyalty May Be Tested as Probe Winds Down
Elise Young, David Voreacos and Terrence Dopp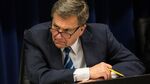 Even as his name is scrubbed from the law firm he co-founded, David Samson's association with New Jersey Governor Chris Christie can't be so easily erased.
They forged their relationship more than a decade ago as prosecutors targeted by a street gang. When Christie was elected governor in 2009, Samson was transition leader before the Republican appointed him chairman of the Port Authority of New York & New Jersey, the agency that controls the region's major airports, bridges and tunnels.
Now, Samson, 75, is emerging as a central figure in an investigation that could embarrass Christie as he considers a White House run. Paul Fishman, the U.S. attorney in Newark, is examining Samson's role in a political plot to block traffic at the George Washington Bridge in 2013. Also under scrutiny are Samson's legal work and airline flights between New Jersey and South Carolina, where his wife has a home, that began after he joined the agency.
"If someone that close to Christie, that intertwined in his gubernatorial life, came out against him and said compromising things, it's going to be hard for Christie to sustain a viable candidacy," said Julian Zelizer, a Princeton University professor of history and public affairs.
Changes Sought
Christie, 52, and Samson say they've acted appropriately, and neither has been charged with wrongdoing.
Karen Kessler, a spokeswoman for Samson, and Brian Murray, a spokesman for Christie, declined to comment on the relationship between the men. Matthew Reilly, a spokesman for Fishman, also declined to comment.
Traveling this week in New Hampshire, which holds the first presidential primary, Christie said Fishman's investigation won't hold sway over a potential candidacy.
"It certainly is not what will make my decision," he told reporters. "I'll make that decision."
John Catsimatidis, a Christie donor and the billionaire owner of real estate and energy conglomerate Red Apple Group Inc., said the scandals are poised to blow over.
"People by the end of the year will discount this event," he said in a telephone interview.
Samson is to retire this month from Wolff & Samson PC in West Orange, with 130 lawyers. The firm said April 7 it will change its name to Chiesa Shahinian & Giantomasi.
"For personal, professional and health reasons, I have made the decision to retire," Samson said in a statement. "After my five decades practicing law, it was time for new leaders to transition the firm for the future."
United Flights
Samson resigned from the Port Authority in March 2014 after e-mails linked him to the bridge traffic scheme, which clogged the New Jersey borough of Fort Lee, whose Democratic mayor didn't endorse Christie's re-election.
Yet his bigger challenge may be weekly flights that United Continental Holdings Inc. initiated between Newark Liberty International Airport and Columbia Metropolitan Airport in South Carolina, about 50 miles (80 kilometers) from a house in Aiken that Samson's wife owns.
Last week, the Port Authority confirmed in bond-offering documents that prosecutors subpoenaed travel records of Samson and "any members of his family or party on United Airlines," the Newark airport's largest carrier.
The flights, which left Thursday nights and returned Monday mornings, ran from September 2012 to April 2014, ending days after Samson left the authority.
Latin Kings
Federal aviation records show that the 50-seat aircraft used on the flights operated about half full. Samson referred to the route as the "chairman's flight." The Record newspaper of Woodland Park, New Jersey, first reported Fishman's review of the trips.
United has said it's cooperating with the federal grand jury and is conducting its own investigation.
Although Samson worked for three former New Jersey governors, Democratic and Republican, he forged his closest ties with Christie. In 2003, when Christie was the U.S. attorney in Newark and Samson was New Jersey attorney general, they faced death threats from the Latin Kings, a gang with 41 members indicted on drug and weapons charges.
"They threatened to kill us both together, which was exciting," Christie said at a September 2010 news conference to announce Samson as an appointee to the Port Authority, whose officials are named by the governors of New York and New Jersey. The agency has been a source of patronage for years.
Atlantic City
In 2007, Christie, as the state's top federal prosecutor, appointed Samson's firm as a monitor at Smith & Nephew Plc, a maker of hip- and knee-implant devices that settled claims it paid kickbacks to surgeons that used its products. Samson's firm stood to make millions of dollars, although the final payments weren't made public.
The Port Authority approved several contracts that benefited clients of Wolff & Samson while Samson served in the unpaid chairman position.
In February 2012, the firm represented New Jersey Transit when it asked Port Authority commissioners to lower lease payments on a parking lot to $1 a year from $900,000. While minutes show Samson voted for the move, the agency revised them two years later to show he recused himself, citing a "clerical inadvertence."
Samson's firm also served as bond counsel at the South Jersey Transportation Authority, which owns Atlantic City International Airport. In 2013, Port Authority commissioners approved an agreement for the agency to operate the airport. While Samson recused himself from the vote, he said at the meeting that the agreement is "really exciting."
Hoboken Project
Fishman is examining the authority's conflict-of-interest policies and Samson's recusals, according to the agency's bond-offering documents.
Fishman's office also is investigating statements by Hoboken Mayor Dawn Zimmer that Christie's administration threatened to withhold Hurricane Sandy disaster aid if she didn't back a redevelopment project involving Wolff & Samson.
The law firm's public billings in New Jersey have expanded during Christie's tenure. In 2010, it earned $1.02 million, double the 2009 total, as outside counsel to the state Law and Public Safety Department, working on bond issues, tort claims and employment litigation, according to public records. The firm's reimbursement from 2010 through Sept. 4, 2014, was $3.82 million.
Samson's business also earned more from lobbying state government after Christie took office, with clients including Gtech SpA, part of a consortium awarded a contract to run the New Jersey Lottery after submitting the sole bid.
The investigations have roots in the four days of traffic jams in September 2013.
'Big Mistake'
Samson was "helping us to retaliate" against New York officials who discovered the closings, according to an e-mail from David Wildstein, a Christie ally and former Port Authority official. After Executive Director Pat Foye, an appointee of New York Governor Andrew Cuomo, ordered the lanes reopened, Samson told a colleague in an e-mail "he's playing in traffic, made a big mistake."
Charges against Samson "would just throw another black cloud out there among the many that are hanging around Chris Christie right now," said Senator Raymond Lesniak, a Democrat from Elizabeth.
If Samson "contradicts Governor Christie in any way, shape or form, Governor Christie is dead in the water politically," said Matthew Hale, who teaches political science at Seton Hall University in South Orange.
"I don't think he can recover from that, even if Samson himself is lying," Hale said. "I don't know if that's right or fair, but I don't think he can survive a direct contradiction from David Samson."