China Starts Campaign to Counter Outflow of Corruption Cash
Bloomberg News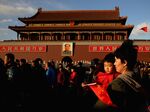 China started a campaign to stop the use of offshore companies to transfer the ill-gotten gains from corruption and bribery overseas.
The People's Bank of China, the central bank, will join with four ministries including the State Administration of Foreign Exchange, to crack down on underground banks, offshore company accounts and other illegal means of transferring cash gained from corruption, according to a central bank statement today.
The campaign, which will last until the end of the year, dovetails with the "Sky Net" operation whose focus is on capturing fugitive officials, the bank said in the statement. Tracking down economic fugitives and bringing them, and their ill-gotten assets back, has become a key component of President Xi Jinping's anti-corruption campaign.
"China's anti-corruption drive faces severe challenges with officials fleeing the country with huge amounts of money, and no way to stop it," said Zhuang Deshui, a governance professor at the Peking University who specializes in anti-corruption. "By promoting this operation, China could build a mechanism to stop the transfer channels."
The Sky Net campaign, which incorporates the so-called "Operation Fox Hunt" that the official Xinhua News Agency said had led to the repatriation of 680 fugitives suspected of economic crimes, is making waves overseas.
The Sydney Morning Herald reported April 15 that Chinese police failed to notify Australian officials when they traveled to Melbourne to pursue a tour bus driver accused of bribery.
The Australian government summoned senior Chinese diplomats in Canberra and Beijing to register their concerns, the paper reported.
In March the U.S. Justice Department indicted Qiao Jianjun, the former director of a government grain storage facility, and his ex-wife Shilan Zhao, accusing them of channeling stolen funds into the U.S. and fraudulently obtaining U.S. visas.
Xi's campaign has snared more than 100,000 cadres, according to Central Commission for Discipline Inspection figures released in December.
— With assistance by David Tweed, and Keith Zhai
Before it's here, it's on the Bloomberg Terminal.
LEARN MORE