Blisters, Dehydration and More: Marathon Medicine Races Ahead
Michelle Fay Cortez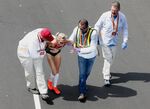 A revolution in marathon medicine is helping more runners get back on course when dehydration, fatigue or worse set in.
About 1 in 10 racers will need some sort of medical help during Boston's iconic race on Monday. Technology by companies like Abbott Laboratories and Medtronic Plc is helping keep runners en route, often making a visit to roadside medics a quick pit stop rather than a ticket to the emergency room.
The Boston Marathon is at the forefront of the medical movement. The race will host about 30,000 athletes running east from rural Hopkinton toward the city on Monday. Looking out for troubled athletes, the event's medical staff can use a fast blood test to see if a runner just needs a drink or is having a heart attack. Many of the on-site services rival what's available in an emergency room.
There's evidence the approach is working. As the number of endurance athletes in the U.S. continues to swell, with a record 541,000 marathoners in 2013 according to Running USA's latest report, serious complications and deaths remain rare.
For years finishers at the Boston Marathon were rewarded with steaming bowls of beef stew. Now the finish line is known for a circus-sized tent with 220 beds, a full laboratory, respiratory and intensive care units and one section of nothing but ice baths. The race is staffed by more than 450 medical providers in white jackets, volunteers who return year after year to ensure the smooth care for runners.
Those volunteers were critical when bombs when off at the finish in 2013, killing three people and injuring at least 260, some of whom lost limbs. Health officials credited the rapid response with getting the worst-injured patients to treatment first, saving lives.
Blurring Vision
The heat, distance and constant pounding of a long race can all take their toll. Evan DeKaser, a Brooklynite who works for Salesforce.com, knows the risks well. The 27-year-old veteran runner was on pace for a personal best at the Brooklyn Half Marathon last May when he started skipping water stations in a bid for time.
"My vision was starting to blur and I was looking down," and he said he began to lose his gait and stagger. He fell to the ground beside the course, where a stranger offered water that he couldn't keep down. At Coney Island Hospital, he received seven liters of fluid intravenously and almost immediately felt fine.
DeKaser said he didn't realize the gravity of the situation until EMTs told him two runners in a similar state died.
"It was pretty frightening," he said. "People were dying because they did exactly what I did."
Ignoring Signs
Like DeKaser, athletes bent on covering the full 26.2 miles often avoid seeking care. At the Boston race, officials don't wait for distance-addled runners to decide for themselves. They have radio operators that act as "spotters," looking for a staggered gait or other signs.
About 10 percent of runners will get some sort of medical treatment at the race, said Chris Troyanos, medical coordinator for the Boston Marathon.
Many of them can get quickly in and out of the medical tents rather than seeing their race end.
"Marathons are all about speed," said Katie Mims, associate director of clinical affairs at Abbott, one of several companies outfitting the 28 medical tents at the Boston Marathon. "If you're a runner that becomes injured, you want to know quickly what's wrong with you so you can get back on the course."
Rapid Tests
Abbott's device, called the i-Stat, can run 26 common laboratory tests in minutes using just a few drops of blood. The results show if a runner has had too much water and is low on sodium, which can be replenished by drinking electrolytes, or is dehydrated and in need of intravenous fluid. It can also spot a heart attack.
Twenty-eight runners died during a marathon or 24 hours after one from 2000 through 2009, most of them men and half age 45 and older, said Julius Cuong Pham, an associate professor of emergency medicine at Johns Hopkins University School of Medicine. Heart disease killed all but one of the older runners.
Of the younger athletes, hyponatremia, which results from drinking too much water, and cardiac arrhythmias were among the causes of death.
To keep track of runners, every bib includes a bar code that is scanned when the runner interacts with the medical team, giving the race officials real-time location information.
In addition to facilities at the start and end of the race, Boston's course has medical stations throughout, clustered near the end of the race. The tents are outfitted with a buffet of medical technology, including defibrillators to shock a stopped heart back to rhythm and pulse oximiters, made by Medtronic, to measure oxygen levels and identify heat stroke.
The aid stations "won't prevent you from pushing yourself hard if you're a runner, because that's what you do," Pham said. "And it won't prevent the heart attack or the cardiac arrest. But it will increase the chance you will survive it."
Before it's here, it's on the Bloomberg Terminal.
LEARN MORE