Billionaire Paulmann Is Seen Avoiding Cut to Junk in Bond Market
Sebastian Boyd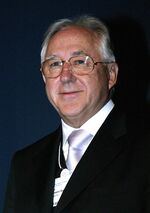 Bonds sold by Cencosud SA, the retailer controlled by Chile billionaire Horst Paulmann, are rallying on speculation the retailer will be able to stave off a downgrade to junk.
Yields on Cencosud's $1.2 billion of notes due 2023 have tumbled 0.29 percentage point to 4.52 percent, the lowest since May 2013, after the company said Monday it won regulatory approval to sell its credit-card and consumer-lending units and will use the money to trim debt. The announcement prompted Fitch Ratings on Wednesday to raise its outlook on Cencosud's rating to stable from negative.
Cencosud's debt levels rose as the company increased acquisitions in Latin America, led by its $2.6 billion purchase of Carrefour SA's operations in Colombia in 2012. The company has said proceeds of the asset sale will cut net debt to earnings before interest, taxes, depreciation and amortization to 3.2 times, which would be the lowest since 2011.
"There is a sense that they'll do whatever it takes" to hold on to the rating, Soummo Mukherjee, a credit analyst at Itau BBA Securities, said by telephone from Santiago.
A Cencosud official declined to comment on the company's bond performance and rating outlook.
Fitch Change
Chile's banking regulator approved the sale to Bank of Nova Scotia, which will pay $280 million for 51 percent of the credit-card unit and take on Cencosud's $1 billion loan book. The deal will be completed by the end of the May.
On March 31, Cencosud Chief Financial Officer Juan Manuel Parada said all the money from the asset sale will be used to repay debt. He also said Cencosud hired Banco BTG Pactual to advise on a potential initial public offering of the company's shopping-mall unit, a move that would also bolster its push to lower leverage.
In the statement accompanying its outlook change, Fitch cited the beneficial impact of the asset sale on Cencosud's debt-reduction efforts. The company's BBB- rating from Fitch is the lowest investment grade and in line with that of Moody's Investors Service, which still has a negative outlook.
Cencosud's notes yielded an average 3.11 percentage points more than U.S. Treasuries as of Wednesday, compared with a 2.10 percentage point average for retailers that share its rating, data compiled by Bloomberg show. The premium had swelled to 3.64 percentage points on March 18.
Profits Sink
Still, EuroAmerica analyst Claudio Ormazabal says Cencosud has to do more to preserve its grade.
"We still think it's on the limit," he said by phone from Santiago. "Operating results are still weak."
Cencosud's operating margin fell to 7.9 percent in the fourth quarter from 8.9 percent in the same period a year earlier, led by declining profits at its department store unit. In Brazil, Ebitda plunged 97 percent in 2014. It fell 18 percent in Colombia and 6.3 percent in Chile.
Chile's peso gained 0.7 percent Thursday to 612.82 per dollar as of 10:12 a.m. in New York.
Cencosud spent $4.5 billion on acquisitions in the past five years to expand across South America, led by the Carrefour purchase. The company sold $1.2 billion of bonds in November 2012 to help pay for Carrefour and another $1 billion in February.
Mall Project
Aside from acquisitions, the biggest drain on the company has been the construction of the $1.1 billion Costanera Center project. The 200,000-square-meter shopping mall opened in June 2012 and its 300-meter, octagonal Torre Gran Santiago tower is now available for rent after the company finished work to offset its impact on local traffic.
To TCW Group Inc. analyst Stephen Keck, Cencosud's efforts to pare debt will probably help to stave off a downgrade.
"This is a good first step, but they need to continue to delever to retain the investment-grade rating," he said.
Before it's here, it's on the Bloomberg Terminal.
LEARN MORE