Global Stocks Tumble on Inflation Data as AmEx Retreats
Jeremy Herron and Joseph Ciolli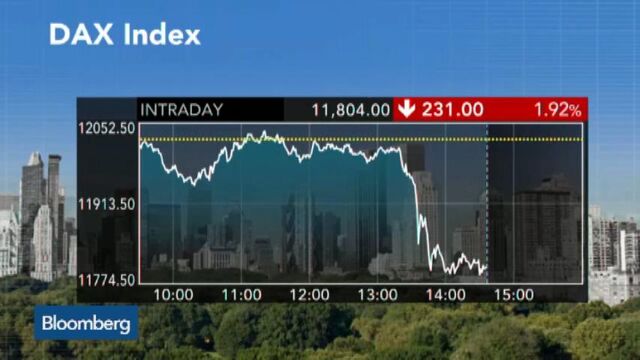 U.S. stocks tumbled the most in three weeks as American Express Co. slid, data signaled U.S. inflation was starting to firm and Chinese regulators tightened rules. Treasuries rose as oil retreated for the first time in seven days.
The Dow Jones Industrial Average slumped 1.5 percent at 4 p.m. in New York, with all 30 components declining. The Standard & Poor's 500 Index lost 1.1 percent as American Express retreated 4.4 percent. The Stoxx Europe 600 Index slid 1.8 percent, the most in three months, as banks fell amid renewed concern over Greece's debt negotiations. The rate on 10-year Treasuries dropped 3 basis points to 1.86 percent. Oil slipped 1.7 percent, even as it capped its biggest weekly gain in more than four years.
Global equities slumped after Chinese regulators curbed margin trading in markets that have led stock advances in the past year. Stocks extended losses as the cost of living in the U.S. excluding food and fuel in March signaled inflation is starting to firm as Federal Reserve officials debate the timing of raising borrowing costs. Greek government bonds sank as officials worked to reach an agreement before the nation faces payments of almost 1 billion euros ($1.1 billion) next month.
"What spooked the market is that we had core CPI move up, which pulls forward the worry of the Fed may raise rates sooner," Mark Luschini, chief investment strategist in Philadelphia at Janney Capital Management LLC, which oversees about $68 billion, said by phone. "That's been trumped by the speculative situation in Chinese domestic shares being cooled off by regulator discussions."
Global Equities
The MSCI All-Country World Index sank 1 percent to erase its gain for the week. Emerging-market equities trimmed a third weekly gain, while the Stoxx 600 capped its worst period this year after rallying to a fresh peak on Wednesday.
The S&P 500 has lost 1 percent this week and slipped below its average price for the past 50 days on Friday. The gauge had climbed to within 0.3 percent of its March 2 record before two days of declines.
In the U.S., the Bank of New York Mellon China ADR Index of U.S.-listed Chinese companies fell 2.2 percent, extending a weekly decline after surging 8.4 percent in the five days ended April 10.
FTSE China A50 Index futures for April delivery tumbled more than 5 percent in Singapore. The China Securities Regulatory Commission banned the margin trading businesses of brokerages from taking part in umbrella trusts, while the Securities Association of China said fund managers can lend shares for short selling.
American Express
The China news "shows how vulnerable the market can be," Matt Maley, an equity strategist at Miller Tabak & Co. in Newton, Massachusetts, said by phone. "More than anything else it gives us an excuse to sell off, pull back in a market that is a little bit extended and close to all-time highs. Asian and European markets have had huge rallies over a short period of time and we'll go down in sympathy with them."
American Express fell 4.4 percent to its lowest level since 2013 after quarterly revenue missed estimates. Advanced Micro Devices slumped 10 percent after saying it is hard to see whether the second half will be "substantially better" than the first half of the year.
'Gut Wrenching'
"We're very early in the earnings season and with multiples much higher now there's some nervousness," Steve Bombardiere, an equity trader at Conifer Securities LLC in New York, said by phone. "We need to get further into the season until we get some direction so right now these little things in the background are good fodder for some short-term gut wrenching."
The cost of living excluding food and fuel increased 0.2 percent in March for a third month, matching estimates, a Labor Department report showed. Including the volatile costs of food and energy, the index also rose 0.2 percent.
Other data showed consumer confidence improved in April to the second-highest level in more than eight years as Americans held more favorable views of the economic outlook and inflation.
Economic Reports
Reports released Thursday showed U.S. housing starts rising less than estimated in March, while jobless claims unexpectedly increased last week.
The Bloomberg Dollar Spot Index, a gauge of the currency against 10 major counterparts, was little changed on the day as it capped a 1.6 percent drop for the week.
Fed officials continued to provide conflicting signals Thursday, spurring fluctuations in Treasuries. Fed Vice Chairman Stanley Fischer sent Treasuries tumbling last session after reminding investors that the central bank wants to boost key borrowing costs.
Fed Bank of Atlanta President Dennis Lockhart then halted the selloff, saying he wanted to see both falling unemployment and quickening inflation prior to the first rate increase.
The U.K. Debt Management Office sold 3 billion pounds ($4.5 billion) in bills after delaying the move as an outage affected Bloomberg LP, the operator of a debt-auction system.
Greece, Germany
The Stoxx 600 is up 18 percent this year, trading near the highest level relative to the projected profits of its members in at least a decade. Germany's DAX Index plunged 5.5 percent this week, the most since 2011.
The Greek ASE Index slid 3 percent for the day, with the National Bank of Greece SA and Alpha Bank AE tumbling more than 7 percent, as the country struggles to win more aid to avoid a default.
Gold futures rose 0.4 percent on demand for a haven as Greece remained locked in negotiations.
Oil dropped 1.7 percent, ending the longest stretch of gains since 2013. Futures climbed 7.9 percent this week amid expectations that the idling of U.S. rigs is spurring a slowdown that will trim the global surplus.
Before it's here, it's on the Bloomberg Terminal.
LEARN MORE