Anita Hill Named Distinguished Faculty Member at Brandeis
Chris Staiti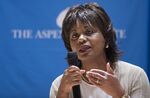 Anita Hill, whose Senate testimony almost derailed the appointment of Supreme Court Justice Clarence Thomas, was named University Professor at Brandeis.
The title, the university's highest academic honor, is given to professors of "surpassing eminence" whose work cuts across disciplines, according to a statement. Hill, 58, a professor of social policy, law and women's, gender and sexuality studies, has been a member of the Brandeis faculty since 1998 and is a senior adviser to the provost.
"Anita Hill is a national voice on the complex and often challenging issues of race, gender and workplace discrimination in America," President Frederick M. Lawrence said in a statement.
Hill brought the issue of sexual harassment into the nation's living rooms at Thomas's 1991 confirmation hearing. In vivid testimony, Hill described unwelcome advances and sexually graphic comments allegedly made by Thomas when she worked for him at the Education Department and at the Equal Employment Opportunity Commission. Thomas, now 66, has repeatedly denied the allegations.
Hill's treatment by the all-male Senate Judiciary Committee at the televised hearing sparked outrage among voters and prompted the election of more women to Congress.
Hill earned a bachelor's degree from Oklahoma State University and a law degree from Yale University.
Before it's here, it's on the Bloomberg Terminal.
LEARN MORE