Yandex Jumps on Surging Volumes as EU Probes Rival Google
Halia Pavliva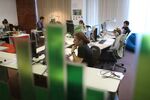 Yandex NV rose to a four-month high in New York amid speculation Russia's biggest Internet company will benefit as Google Inc. faces increased regulatory scrutiny.
Yandex jumped 14 percent to $20.40 on Wednesday, erasing its loss for 2015 after tumbling to a record low in March. It was the best performer on a Bloomberg index of the most-traded Russian companies in the U.S., which increased 3 percent.
The EU is escalating its four-year-old investigation into Google two months after Russia opened a review of the U.S. company's Android mobile operating system practices following a request from Yandex. Google has been increasing its share of the Russian market for search over the past year while Yandex's position declined, surveys show.
"Google's loss is Yandex's gain," Ilya Koupreyev, a senior analyst at Aton Capital brokerage in Moscow, said by phone Wednesday. "As the EU pressed the probe on top of the active investigation in Russia, it's just logical to expect that Google will have to change its ways and Yandex will directly benefit from that."
The European Commission sent a "statement of objections" to Google that alleges the company has been unfairly favoring its own comparison shopping service above rivals since 2008. Regulators, who have the power to impose fines, will also look at Google's contracts with phone and tablet makers to check if they are forced to use the company's services or blocked from adopting modified versions of Android.
Yandex Data
Yandex said on Feb. 18 it asked Russia's Federal Anti-Monopoly Service to check if Google is violating Russian regulations. Yandex said phone and tablet producers who want to have the Google Play application store on their devices must agree to set Google search as default and install an entire set of the company's services, including Maps and Gmail.
Yandex is a witness in the EU's probe and has submitted data related to Google's competition practices on the Android system in Russia to the European Commission last year, Vladimir Isaev, a spokesman for the company, said by e-mail Wednesday.
"Even though EU case does not impact Yandex directly, it shows that things are moving in a certain direction for Google, not just in Russia, but also in the EU," Luis Saenz, head of equity sales and trading in London for Moscow-based BCS Financial Group, said by phone Wednesday. "We like Yandex longer term. If there is a ruling against Google, the key beneficiary will be Yandex."
Yandex, which makes most of its sales in rubles, is also benefiting from the ruble's 22 percent gain this year, Koupreyev at Aton said.
Market Position
Yandex, which also operates a web search engine in Turkey, makes most of its revenue from selling text-based advertising and more than 90 percent of its annual sales are in rubles, data compiled by Bloomberg show. The stock mostly trades in New York and a stronger ruble means that the company's revenue increases when calculated in U.S. dollars.
Yandex's share of total Internet searches in Russia decreased to 58 percent in March from over 62 percent a year ago, while Google's portion increased to 34 percent from 27 percent, according to researcher LiveInternet.ru.
"Yandex looks very attractive, as it will be able to increase market share quickly once regulators make a decision on Google," Oleg Popov, a money manager at Moscow-based April Capital asset management, said by phone Wednesday. "Another factor in Yandex's favor is the rallying ruble."
The Bloomberg Russia-US Equity Index rose to the highest level this year as energy stocks rallied with oil, the country's biggest export. Oil producer OAO Lukoil jumped 3.3 percent to $51.96, the highest in seven months. Natural-gas exporter OAO Gazprom advanced 7.1 percent to $6.03 in the biggest rally since mid-December. United Co. Rusal added 1.1 percent to HK$4.62 at 10:37 a.m. in Hong Kong.
Before it's here, it's on the Bloomberg Terminal.
LEARN MORE