Why Nuclear Power Is All but Dead in the U.S.
Where there's a will, there's a way. In the U.S.: Not much will
By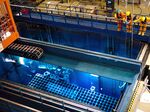 The Obama administration supported a bill yesterday, April 14, that would give Congress a chance to review a nuclear power agreement with Iran, if the two countries clinch a deal before their June 30 deadline. 
In other words, if the diplomatic hurdles are surmounted, nuclear power may have a smoother ride in Iran than in the U.S.
"No question," said Judd Gregg, the former New Hampshire Republican senator and governor and current co-chairman of Nuclear Matters, a bipartisan nonprofit group that promotes keeping nuclear alive in the U.S. "There are 150 plants on the drawing board around the world. There are five on the drawing board in the United States."
Say what? The U.S. achieved fission before anybody else. It learned before anybody else to control nuclear power, train it to boil water, to spin turbines, to generate electricity. There are 99 nuclear reactors across the U.S., providing about 19 percent of Americans' electricity. They account for about 30 percent of global nuclear capacity. 
No new U.S. nuclear plant has opened since Watts Bar 1, in Tennessee, in 1996. And 20 more may close, "which makes no sense at all, from a common sense standpoint, or anything else," Gregg said. Not because there's something dramatically wrong with them. They're victims of the success of natural gas, a shortage of power lines, eternal environmental enmity, and the eternally unresolved issue of where to store nuclear waste. 
Natural gas has driven power prices lower than nuclear's operating costs. If bad economic trends persist for nuclear, more and more of the U.S. fleet may retire in coming years, leaving the communities they serve at the tyranny of plants powered by fossil fuels. 

That's a huge problem for climate activists who oppose nuclear power. Nuclear plants would likely be replaced by natural gas or (shudder) coal plants, which would drive up carbon dioxide emissions. It's happening in Germany, where the government decided to abandon nuclear power after the March 2011 catastrophe at Fukushima. In Vermont, where a 600-megawatt plant closed in December, carbon-free nuclear power is being replaced largely by fossil-powered electricity from the grid. 
That makes nuclear an energy source that could help nations meet the goal of keeping global warming below 2 degrees Celsius. We're already about 0.8 degree there. "I can't see a scenario where we can stick to the 2 degree warming commitment ... without a substantial contribution from nuclear," said Michael Liebreich, the founder of Bloomberg New Energy Finance, at its annual conference yesterday. "We have got to figure out nuclear if that envelope is to mean anything to us."
There's some movement on giving nuclear power credit where credit is due. The Environmental Protection Agency is working on how to credit nuclear for carbon-free electricity as it finalizes its climate rules on new and existing power plants. That would give nuclear a boost by making it officially a more palatable alternative to coal plants, which until the end of the year will close at an average rate of 88 megawatts a day. 

Economics, regulation, politics, waste storage, safety, post-9/11 security, transmission, community opposition, national environmental opposition—all explain why it may soon be simpler to build nuclear plants in Iran. Or China, where some 30 reactors are under development. India is adding six more to its 21 operating plants. There are 66 nuclear power stations under construction around the world right now. Just four are in the U.S. 
And that leaves the U.S. nuclear power industry at a strange phase in history—as the underdog.
Correction: The original version of this story misstated the status of the congressional bill on the Iran negotiations.