Singapore Property Gloom Has Silver Lining for Investors
Jonathan Burgos and Pooja Thakur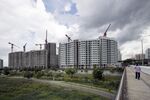 Here's a good reason to own Singapore property shares: you might not have to own them for long.
Investors from ABN Amro Private Banking to Baring Asset Management Ltd. are eyeing developers that may be taken private by their parents as 66 percent of the companies trade at less than the value of their net assets. Six developers were bought out since 2010 at an average share-price premium of 26 percent, data compiled by Bloomberg show. In the most recent and largest transaction, Keppel Corp. paid S$2.7 billion ($2 billion) for the rest of Keppel Land Ltd. in March.
Listed developers with just one share in non-Singaporean hands are treated as foreigners under the city-state's regulations, leaving them open to penalties if they miss deadlines to finish projects and sell apartments. Government curbs drove home sales to a six-year low in 2014, leaving more real-estate companies holding unsold units.
"For some of the developers which don't need funding, privatization might make sense," Daphne Roth, head of Asian equity research at ABN Amro Private Banking, which manages about $203 billion, said by phone. "There's a possibility of more privatizations, especially for the smaller companies where profit will be very much distorted by the charges that they take for unsold properties."
The controlling shareholder of Wing Tai Holdings Ltd. may opt to take the company private to avoid such penalties, according to Maybank Kim Eng Holdings Ltd. The developer of luxury homes would face as much as S$211 million in penalties over three years if its units in the Le Nouvel Ardmore and Nouvel 18 projects remain unsold, according to a March report from the brokerage.
Property Penalties
Other prime candidates for delisting include Ho Bee Land Ltd., Wheelock Properties Singapore Ltd. and Guocoland Ltd., because their shares are cheap, said Vikrant Pandey, an analyst at UOB-Kay Hian Holdings Ltd. The companies trade at between 0.6 times and 0.8 times their book value, data compiled by Bloomberg show. Ho Bee jumped 4 to the highest close since April 2014. Guocoland rose 1.6 percent, while Wing Tai gained 1 percent. Wheelock Properties added 0.3 percent.
Under the Residential Property Act, foreign developers need to complete construction within five years of purchasing land and offload all units in another two years after that. If they fail to sell them they have to apply for extensions and pay charges from 8 percent to 24 percent a year on the value of unsold units.
The law is designed to ensure land in Singapore, an island state with a population of more than 5 million, isn't hoarded for speculation. Listed developers are counted as foreign if investors outside Singapore buy shares in them.
Future Upside
Businessman Simon Cheong privatized SC Global in January 2013 in a deal that valued the luxury homebuilder at S$745 million. The Marq, a premium residential project near the Orchard Road shopping belt, had 52 percent of units unsold at the time of the offer, according to data from Maybank Kim Eng. The company's other projects had from 26 percent to 100 percent of their units unsold at the time, according to the brokerage.
"Depressed valuations might be an opportunity for the major shareholders to privatize and enjoy the future upside," Soo Hai Lim, a Hong Kong-based money manager at Baring Asset, which oversees about $40 billion globally, said by phone. "Regulations could be another reason to take companies private. That was the rationale in the case of SC Global."
Cooling Measures
Keppel Corp., the world's largest oil-rig builder, paid S$4.38 a share for the 45.4 percent of Keppel Land it didn't already own. The stock soared 25 percent on Jan. 26 after the offer was announced. The move allows the supplier of rigs to customers including Petroleo Brasileiro SA to diversify its revenue and streamline its organizational structure.
Lee Hwee Hong, head of Group Corporate Communications at Wing Tai, and Wheelock spokeswoman Sylvia Sim declined to comment. Ho Bee and Guocoland didn't respond to e-mail queries from Bloomberg.
Developers' home sales have been hurt by the government's campaign to cool property prices in Asia's second-most expensive housing market. Measures since 2009 include a cap on debt repayment costs at 60 percent of a borrower's monthly income, higher stamp duties and higher real estate taxes.
Prices Drop
Annual home sales dropped to a six-year low in 2014, halving from the year before, according to data from the Urban Redevelopment Authority. Singapore's home prices dropped for a sixth consecutive quarter in the three months ended March 31, the longest losing streak in more than a decade.
"If they believe that there could be some improvement in the outlook, then they'll probably hold on to their projects," Pandey at UOB-Kay Hian said, referring to developers. "As of now, the chances of an improvement are low. I don't see an immediate pickup in demand for high-end property due to the property curbs."
Shares of potential delisting candidates have rallied since Keppel Corp. announced the Keppel Land purchase on Jan. 23. Wing Tai and Ho Bee surged more than 10 percent since that day through through Thursday. Guocoland and Wheelock gained over 3 percent.
"We believe the odds for privatization are rising for Wing Tai," Derrick Heng, an analyst at Maybank Kim Eng, wrote in a note to clients on March 25.
Controlling shareholders of Popular Holdings Ltd., a bookstore chain operator and developer, made a buyout offer in January before a deadline to sell all units at its condominium project Ei8ht Raja. Hiap Hoe Ltd. and SingHaiyi Group Ltd. are among developers that restructured projects.
Hiap Hoe in December said its parent will buy the unsold units at its high-end condominium project Treasure on Balmoral near Orchard Road. SingHaiyi Group on April 1 said it will sell its majority stake in Corporate Residence Pte, the developer of the City Suites condominium project.
"Why pay levies or sell at rock bottom prices when we can find other ways like going private," said Donald Han, managing director of Chesterton Singapore Pte, a real estate consulting company.
Before it's here, it's on the Bloomberg Terminal.
LEARN MORE