Schaeuble Warns Greece to Ditch False Hopes, Do Reforms
Brendan Greeley, Rainer Buergin and Birgit Jennen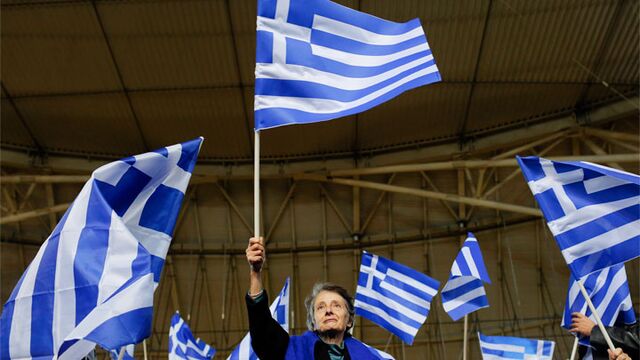 German Finance Minister Wolfgang Schaeuble ruled out further concessions to Greece, saying it's up to the Greek government to commit to the reforms needed to release aid rather than give false hopes to its people.
Schaeuble, speaking in a Bloomberg Television interview in New York on Wednesday, said that another debt restructuring wasn't up for discussion now, and that Greek demands for war reparations from Germany were "completely unrealistic."
"It's entirely down to Greece," said Schaeuble, 72. While some kind of restructuring might be on the agenda in 10 years, "today the issue for Greece is reforming its economy in such a way that it becomes competitive at some point."
Greece's plight is deepening with no end in sight to the standoff with creditors over releasing the final installment of bailout aid, which has been stalled since the January election of Prime Minister Alexis Tsipras's anti-austerity government. Greek bonds plunged Thursday after Standard & Poor's cut the country's rating to CCC+ from B-, citing the country's deteriorating outlook.
The yield on three-year Greek notes rose 157 basis points at 11:21 a.m. in Athens to the highest level since the country's debt was restructured in 2012. Greek bank shares rebounded from a 20-year low yesterday, gaining 0.9 percent.
Monthly Bills
Die Zeit newspaper reported Wednesday that the German government was working on a plan to keep Greece in the euro area if the country defaulted, triggering a halt to European Central Bank funding.
"We don't have such plans, and if we were working on them -- because ministry staff are taking just about everything into consideration -- then we would definitely not talk about it," said Schaeuble. "It makes no sense to speculate about it."
With a monthly bill of about 1.5 billion euros ($1.6 billion) for pensions and salaries and repayments to its international creditors looming, Greece is targeting next week's meeting of euro-area finance ministers in Riga, Latvia, as a deadline for unlocking the funds.
While Schaeuble said earlier Wednesday that "no one" in the euro region expects a resolution of the standoff by the Riga meeting on April 24, he softened his tone in the interview, saying that the end of the program on June 30 was the only deadline that mattered.
U.S. Warning
"If Greece wants support, we will give this support as in recent years, but of course within the framework of what we agreed," he said. While the decisions ultimately lie with Greece, "whatever happens: we know that Greece is part of the European Union and that we also have a responsibility for Greece and we will never disregard this solidarity."
Greece and its creditors need to reach an agreement to avoid events such as a Greek exit from the euro, which would cause "an enormous amount of disruption and hardship," U.S. Treasury Secretary Jacob J. Lew said in an interview.
Greek Finance Minister Yanis Varoufakis plans to meet Lew on Friday after attending a White House reception Thursday on the occasion of Greek independence 194 years ago.
Germany has repeatedly dismissed Greek demands for reparations for the country's occupation and atrocities committed during World War II. The Greek government most recently cited a sum of 278.7 billion euros, almost equivalent to Germany's entire budget for this year. Schaeuble added his voice to those saying the demand doesn't advance the goal of stabilizing Greece.
Unrealistic
"This has been ruled on so many times by the international courts that the revival of this discussion can only lead to raising hopes with the Greek people that are completely unrealistic," he said.
Schaeuble, who is in his second term as finance minister in Chancellor Angela Merkel's government, the biggest contributor to Greece's 240 billion-euro bailout and one of the foremost advocates of budget cuts and economic reforms in return, is due to attend the International Monetary Fund's spring meetings in Washington this week.
Asked if he planned to meet Varoufakis during his trip, Schaeuble said that he would "surely" see him the following week in Riga.
"He meets many people and so do I, but perhaps we'll meet," said Schaeuble. "If we meet, we'll talk, of course. Sure, no problem."
Before it's here, it's on the Bloomberg Terminal.
LEARN MORE