Scene Last Night: The Art Fund Party Where the Guests Got Hugged
Amanda Gordon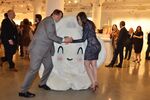 If there were justice in the world, every gala guest would get hugged by a fluffy life-sized emoji, throw toilet paper at a tree and complete a Mad-Lib, all before sitting down to a first course of alphabet soup.
This is what happened Tuesday night at the Public Art Fund's annual benefit, which was sold out, had a waiting list and took place at Metropolitan West, a venue on far West 46th Street.
"I haven't gotten a hug yet -- I've thrown toilet paper and I've had smoke coming out of my eyes," said Jill Kraus, Public Art Fund's chairman. That last experience had software altering guests' images on a screen so "smoke" or "fog" poured out of their faces, wafting above their heads.
"I'm really one of those people that doesn't like galas with lots of speeches," Kraus added.
For a few years now, the Public Art Fund has turned to artists' interactive work as its benefit attraction.
The guest-as-smoke-monster machine was created by Rafael Lozano-Hemmer. The guest-as-mischievous-toilet-paperer came from Martin Kersels and looked nothing like a Halloween prank; his "TP-Tree" featured streams of toilet paper in bright colors.
The Mad-Libbers, playing the game to the orders of artist David Colman, solicited nouns, German foods, celebrities, gerunds and so on, then read back the results.
Soup Cans
One such interaction produced a tract on the "hermeneutics of dogs" by "Mercedes Benz Wiener Schnitzel," considering a Bertolt Brecht play titled "The Great Rise of RuPaul," about a caviar merchant.
That one may have been enough to whet the appetite for dinner, by Pinch Food Design. Waiters carried cans of alphabet soup (one for each guest) to Robert Rosenkranz, chief executive officer of Delphi Financial Group, Peter Kraus, CEO and chairman of AllianceBernstein, Matthew Bass, chief operating officer for alternatives at AllianceBernstein, and Diane Coffey, managing director at Peter J. Solomon Co.
Everyone got to pour the soup themselves. Cheese steaks and chicken and waffles came after.
Dessert was served in a wall of antique-looking dresser drawers, stocked with donuts, cookies and eclairs. Obviously, the best way to work it off (other than dancing at the after party) was to walk from Public Art Fund installations in Central Park (Tatiana Trouve's "Desire Lines") to Brooklyn's MetroTech Center (Sam Falls's "Light Over Time").
Hugging Mandatory
The upcoming must-see is Jeppe Hein's "Please Touch the Art," including shoots of water, opening May 17 in Brooklyn Bridge Park.
"We don't make a statue and just stick it there forever," said Nicholas Baume, director and chief curator of the Public Art Fund. "Even a place that was familiar, that you've been through a million times, you see in a new way."
Which brings us to "Hug," the roaming, adorable-costumed hugger at the party, who seemed to transform the benefit experience the most. Robert Soros and Sara Fitzmaurice found the embrace irresistible; others were coaxed into it.
"We're making sure they're hugging people even against their will," said Samuel Borkson, who collaborated on the project with Arturo Sandoval III under the moniker FriendsWithYou. "We just wanted to make the cutest thing ever. It's almost like a science: placing the mouth with the eyes in a certain way makes you feel empathetic, almost like the effect of a baby."
Surveying the room, Borkson was satisfied. "Look how happy everyone is to hug it -- they close their eyes and tip their head. The art world can be awfully stuffy. People are so isolated. I grew up hugging like crazy, I thought everybody got hugged all the time. Maybe it's a Miami thing, people are very touchy there."
Before it's here, it's on the Bloomberg Terminal.
LEARN MORE