Russia Bans Hollywood Film for 'Distortion' of World War II Past
Ilya Khrennikov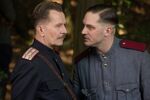 Russia canceled a planned premiere for the Hollywood movie Child 44 and barred it from cinemas over what the distributor and the Culture Ministry described as a "distortion of historical facts" relating to World War II.
It's "unacceptable" to show the film, due for release on April 17, so close to Russia's May 9 Victory Day commemorations for the 70th anniversary of the end of the war, the ministry and the local distributor Central Partnership said in a joint statement on Wednesday. Their views "coincided" that it shouldn't be shown, they said in the statement.
"Movies like this shouldn't be released in our country's cinemas, earning money from filmgoers, not on the 70th anniversary of the victory or at any time," Culture Minister Vladimir Medinsky said in a separate statement.
Russia has sought in recent years to promote production of domestic patriotic movies and to fight what it calls attempts to "falsify" the Soviet Union's role in the wartime defeat of Nazi Germany. Those efforts have intensified amid the worst tensions since the Cold War between Russia and the U.S. and the European Union over the conflict in Ukraine.
Medinsky asked Walt Disney Co. in January to re-schedule this month's Russian premiere of "Avengers: Age of Ultron" so that it didn't clash with the release of a domestic film set in the Great Patriotic War, as the period from 1941 is known in Russia, in which at least 27 million Soviet soldiers and civilians died.
'Inferior Subhumans'
Child 44, which stars Gary Oldman and Tom Hardy, depicts Soviet leader Joseph Stalin organizing a mass famine "specially for Ukraine" and killing up to 25,000 people a day, Medinsky said. Starving children are depicted eating each other and victorious Soviet soldiers are seen shooting their own citizens "in the yards, the streets, in their offices and just casually, in front of their children, 'to teach them a lesson,'" he said.
Soviet people are presented as "physically and morally inferior subhumans, a bloody mess of orks and ghouls" in the film, which covers the period from the 1930s to the 1950s, Medinsky said. "That's how they show our country -- the same country that had just won the Great War, become a global leaders and was about to launch the first man into space."
He "highly appreciated" the distributor's decision to withdraw its application for a permit to screen Child 44, Medinsky said, following a showing with experts from the ministry.
Before it's here, it's on the Bloomberg Terminal.
LEARN MORE