Page and Brin Lag Euro Stocks as the EU Goes After Google
The search giant has taken a hit
by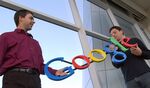 Google Inc. founders Larry Page and Sergey Brin are struggling to maintain upward momentum this year, as company shares have declined from their 2015 high on March 5. The fall comes as the European Union escalates a four-year-old probe that accuses the company of abusing its search engine dominance.
The billionaires have held on to about a 2 percent gain since Jan. 1, according to the Bloomberg Billionaires Index. Meanwhile, the Euro Stoxx 50, CAC 40 and German Dax indexes are all up more than 20 percent for the year, according to data compiled by Bloomberg.

Before it's here, it's on the Bloomberg Terminal.
LEARN MORE