Oil Rally Seen Reversing on Biggest U.S. Glut in Decades
Moming Zhou and Mark Shenk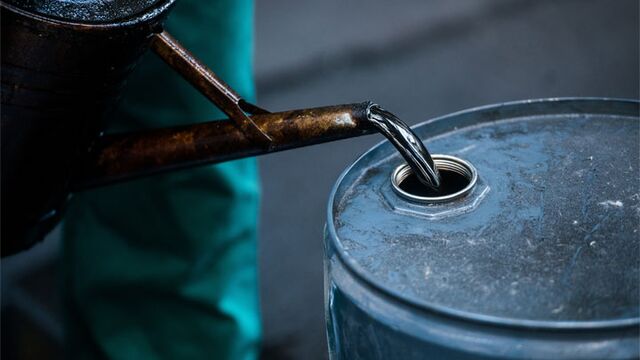 Oil's surge to the highest level of the year may be short-lived as the biggest U.S. stockpiles in 85 years cushion against a drop in production.
West Texas Intermediate crude jumped about 7 percent this week after the Energy Information Administration predicted that the shale boom that's swelled U.S. output to a record is ending. The nation's inventories increased for a 14th week to the highest level since 1930, EIA data showed Wednesday.
Prices rebounded 17 percent this month as a record decline in rigs seeking oil boosted speculation that production will soon slow and as refineries used more crude after seasonal maintenance. OPEC increased output by the most in four years even as U.S. shale output is poised to fall. These mixed signs are likely to whipsaw prices amid increased volatility, according to oil historian and economist Daniel Yergin.
"I have a really hard time thinking that we've reached a turning point," said Bill O'Grady, chief market strategist at Confluence Investment Management in St. Louis, which oversees $3.4 billion. "You still have 480 plus million barrels of oil. I don't think you'll get a decline in stockpiles soon."
WTI for May delivery rose 32 cents, or 0.6 percent, to close at $56.71 a barrel on the New York Mercantile Exchange Thursday. It's the highest settlement since Dec. 23.
U.S. crude supplies climbed 1.29 million barrels to 483.7 million last week. Monthly data going back to 1920 show stockpiles haven't been this high since 1930. Output from the prolific tight-rock formations such as North Dakota's Bakken shale will decline 57,000 barrels a day in May, the EIA said on Monday. It's the first time the agency has forecast a drop in output since it began issuing a monthly drilling productivity report in 2013.
Cushing Storage
Inventories at Cushing, Oklahoma, the delivery point for WTI traded in New York, climbed 1.29 million barrels to a record 61.5 million. The hub has a working capacity of 70.8 million, according to the EIA.
WTI could see a "potentially large pullback that could take prices back to the low $40 range as Cushing storage nears its maximum working capacity," Vikas Dwivedi, an analyst in Houston at Macquarie Capital Inc., said in a report Tuesday.
Crude production fell 20,000 barrels a day to 9.38 million last week, according to preliminary estimates by the EIA. Still, output will rise to average 9.23 million barrels a day this year, the highest since 1972, according to the agency, and then to 9.31 million in 2016.
More Volatility
The much debated shape of the oil-price curve will take the form of a W and increased supply will renew downward pressure on prices as volatility is exacerbated by storage and investment decisions, Yergin said Tuesday.
Output from the Organization of Petroleum Exporting Countries rose the 890,000 barrels a day to 31.02 million in March, the biggest gain since June 2011, the Paris-based International Energy Agency said Wednesday. OPEC's 12 members, which pump about 40 percent of the world's oil, are scheduled to meet June 5 in Vienna.
"Bullish markets are notorious for ignoring bearish news," said Tim Evans, an energy analyst at Citi Futures Perspective in New York. "The market is focusing on the 20,000 barrel decline in U.S. production last week, while ignoring the 890,000 barrel-a-day increase in OPEC production that the IEA reported. There's no physical tightness to withstand the next wave of selling."
Before it's here, it's on the Bloomberg Terminal.
LEARN MORE