The Oil Industry's 'Man Camps' Are Dying
Drillers spent big to house workers in the new boomtowns. No more
By and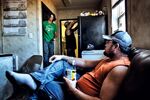 At the peak of the fracking boom a few years ago, Jeff Myers converted his South Texas hunting camp into rental oilfield housing. Little wonder: The industry had an almost insatiable hunger for the grunt laborers—the roughnecks—to work the fields, and employers were happy to spend whatever it took to house and feed them. Today that boomtown demand—and $100-per-barrel prices—is a bittersweet memory, and occupancy at Myers's once-packed Double C Resort has dropped to 10 percent as job cuts take hold. "There aren't going to be any winners down here," he says. "Everybody's going to have to adjust."
America's oilfield "man camps"—as the industry calls them—are turning into ghost towns as drillers cut back the free housing, food, and air travel once used to lure shale boom workers. The mini-settlements that sprang up throughout drilling regions in Texas, North Dakota, and Colorado are fading away as energy companies look to slash as much as $114 billion in spending this year, says a Cowen Group survey, and lay off tens of thousands of employees.
"The money flies" when the oil field's booming, says Milton Allen, who's built and developed facilities for the oil industry for the past 15 years and operates a 12-room man camp in the Eagle Ford Shale in South Texas. "Then when the market starts to trim down, the money stops."

During the shale boom, some companies were paying as much as $40 million a year to house and feed a group of 1,000 workers, according to worker services company Target Logistics. The man camps they built ranged from dozens of RVs neatly lined up on the edge of oil fields to entire communities of mobile homes or manufactured housing thrown up in the middle of the Texas scrub country or North Dakota Great Plains.
Competition for well-trained, specialized employees grew so fierce that extravagant benefits were necessary to recruit top talent to remote drilling areas. Lodging perks included daily room cleanings; catered meals such as beef barbecue, shrimp, and lobster; and flatscreen TVs with hundreds of channels. Many workers even got free air travel to commute between job sites and home during breaks.
Halliburton President Jeff Miller recently cited housing expenses as one area ripe for cuts as the industry moves from a "boomtown mentality" back to "normalcy." "We have an entirely commuter workforce that flies to and from an area," he told investors at a Credit Suisse energy conference in February. "They live in our company-paid housing. We're feeding them 24 hours a day. The cost of all associated services skyrockets as well."
With layoffs now the rule, many workers are grateful just to keep their jobs. So more employers are asking them to cover their own rent, pay for their own clothing, and find their own transportation to drill sites.
Christopher Powell, who worked for Epic Management Resources, a subcontractor to Swift Energy in Tilden, Texas, saw the writing on the wall in March when Swift started rounding up leased furniture and unused computers in its offices in drill site communities. Another sign of trouble: "The food just got worse and worse," recalls Powell, who graduated from Texas A&M University in 2010 with a business degree and went straight to work in the industry. Rib-eye was no longer served at the company's safety meetings. "It eventually got as bad as chicken-fried steak," says Powell, who lost his job in March.

On top of a salary, a company's typical cost for an out-of-town worker in the Bakken Shale in the Dakotas during the boom was about $500 a day, with most of that going to accommodations, says PacWest Consulting Partners, a unit of IHS. "It was a necessity of recruiting," says Jeff Zarling, president of Williston (N.D.)-based Dawa Solutions Group, a Bakken-area marketing firm. But today, "what we're seeing is companies want to get out of the housing business."
Shares of Civeo, an oilfield housing supplier that operates man camps across North America and Australia, have fallen 89 percent since it began trading last May after being spun off from oil services company Oil States International. The company is expected to swing to a loss of $54.2 million this year, excluding certain items, after showing a profit of $79.7 million in 2014.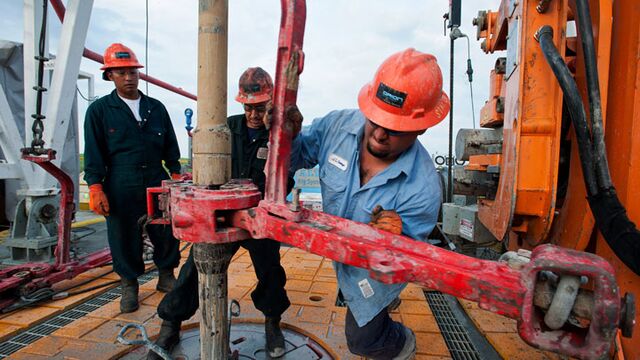 Workers in search of cheap housing near the Texas fields are flocking to the 84 recreational vehicle parks scattered around Dimmit County in South Texas, says Mario Chavez, assistant city manager of Carrizo Springs, the county seat. RVs allow roughnecks to live like migrant workers, moving from drill site to drill site as jobs require, he says. "Everybody's starting to try to be more frugal about what they do," he says.
Oilfield housing isn't disappearing entirely. Even as the perks are getting wound down, companies still need to provide housing in some remote areas where other accommodations are limited, such as the vast plains stretching over the Bakken Shale or the oil sands of Alberta.

Target Logistics, a workforce housing provider, said in March it signed contract renewals with two oilfield service companies worth $50 million over three years. The company, a unit of Baltimore-based business service provider Algeco Scotsman Inc., operates 19 properties in the U.S. and Canada with more than 8,000 total beds.
Austin Covington is one of the lucky ones who's kept his job, clearing drilling sites at the Briscoe Ranch in South Texas. The excavation company he works for has cut back on overtime and taken away his uniform to save on dry cleaning. One of its four trailers is getting hauled away, and the workers are squeezed into the remaining three, with Covington, 20, sharing a bedroom with another worker. "Thankfully," Covington says, "he doesn't snore."
The bottom line: At the shale boom's height, oil companies spent as much as $40 million a year to house and feed 1,000 workers.
(Updates with Target contracts in penultimate paragraph.)
(Updates with Target contracts in penultimate paragraph.)
Before it's here, it's on the Bloomberg Terminal.
LEARN MORE