Ocwen May Hand Bad-Mortgage Contracts to Fannie Mae, Freddie Mac
Jody Shenn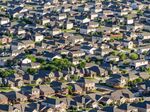 Ocwen Financial Corp. may turn over contracts to oversee soured Fannie Mae and Freddie Mac loans to the government-backed mortgage guarantors as it pares its portfolio after coming under regulatory scrutiny.
The potential deals, which were disclosed Tuesday as likely produce to losses in a presentation to lenders, relate "to non-performing agency loans where the company expects to close transactions directly with" Fannie Mae and Freddie Mac, John Lovallo, a spokesman for Ocwen at Levick LLC, said in an e-mail. The cash received, which Ocwen said may total more than $100 million, will come "largely" from reimbursements of advances to cover expenses such as foreclosure attorney fees, he said.
Ocwen, which grew rapidly in 2012 and 2013, has been shrinking its business after a December settlement with New York in which its founder agreed to leave the firm. The home-loan servicer, which has also faced complaints from some mortgage-bond investors, is working to file an annual report delayed while its auditor determines whether there's a risk it won't be able to continue operating as a going concern. Ocwen will probably have to recognize losses from relinquishing the bad-loan contracts, according to Tuesday's presentation.
"Under these agreements the company is not allowed to provide any further details on the nature of the agreements," Lovallo wrote in the e-mail.
The Atlanta-based company, which previously announced plans to sell $90 billion of servicing rights on Fannie Mae and Freddie Mac loans, said Tuesday it expects to receive $880 million and report $186 million of gains on those sales.
Challenges Ahead
Transactions with Fannie Mae and Freddie Mac that garner only money owed to Ocwen for advances may signal greater challenges in disposing of other contracts as it shifts to focusing on loans without U.S. backing. The deals "likely will result in recognized losses including settlements of estimated future losses," Ocwen said in the presentation.
Andrew Wilson, a spokesman for Fannie Mae, and Tom Fitzgerald, a Freddie Mac spokesman, declined to comment.
Freddie Mac said in its annual report in February that the rapid growth of nonbank servicers such as Ocwen could expose it to higher risks if it "results in operational strains that adversely affect their servicing performance or weakens their financial strength." Freddie Mac said it was moving to reduce its exposure to Ocwen, which oversaw about 3 percent of single-family loans the mortgage giant guaranteed as of Dec. 31.
Servicers collect payments from borrowers and pass them on to mortgage lenders or investors, minus fees, and handle foreclosures when borrowers don't pay.
Before it's here, it's on the Bloomberg Terminal.
LEARN MORE