Swim Champion Michael Phelps Will Seek to Qualify for 2016 Games
Mason Levinson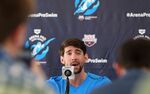 Olympic swimming champion Michael Phelps will try to qualify for the 2016 Rio Summer Games, when he'll be 31.
The record 18-time gold medalist confirmed what had been expected about his Olympic intentions, sharing his plans with reporters in Mesa, Arizona, at the Arena Pro Swim Series.
"I am looking forward to next year," Phelps said. "I don't think it's too hard to really realize why I came back."
Phelps also said he'll respect a decision by USA Swimming and not try to compete at the August world championships in Kazan, Russia, part of his punishment following a September arrest for driving under the influence.
Phelps announced his retirement from competitive swimming after winning six medals, including four gold, at the 2012 London Olympics. He ended the retirement one year ago, saying he was drawn back to competition.
Phelps won six gold medals and two bronzes at the 2004 Athens Olympics. He captured a single-games record eight golds four years later in Beijing.
Earlier in April, Phelps ended a six-month suspension by USA Swimming, given to him less than a week after he was charged in Baltimore with driving under the influence for the second time in a decade.
Before it's here, it's on the Bloomberg Terminal.
LEARN MORE