McDonald's Relationship With Franchisees Seen Reaching New Low
Craig Giammona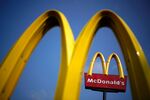 The relationship between McDonald's Corp. and its U.S. franchise owners is more strained that it's been in at least a decade, according to Janney Capital Markets.
Janney's survey, which was first taken in 2003, found that restaurant owners rated both their corporate ties and business outlook poorly. The respondents' six-month outlook also was the worst since the survey's inception.
"Our franchisee respondents rate the relations between franchisees and corporate as the lowest they've been in our 11-plus-year survey history," Mark Kalinowski, a Janney analyst in New York, said in the report. Multiple respondents indicated the situation was the worst they'd ever seen, he said.
McDonald's frayed ties with its franchisees adds to the headaches of new Chief Executive Officer Steve Easterbrook. He took the reins last month after the fast-food chain got mired in its worst sales slump in more than a decade. McDonald's has more than 14,000 U.S. restaurants, with about 90 percent of them run by franchisees -- making those relationships crucial to its success.
The feedback from franchisees led Janney to trim its sales projection for March. The investment bank is now predicting a decline in U.S. same-store sales of 3.7 percent, a more pessimistic forecast than the 3 percent consensus of estimates, said Kalinowski, who has a neutral rating on McDonald's.
"Franchisees' average outlook for the next six months' worth of business averaged out to 1.81," he said, with 1 representing "poor" and 2 being "fair." The survey's historical average is 2.8, and it reached an all-time high of 3.46 in February 2004.
Before it's here, it's on the Bloomberg Terminal.
LEARN MORE