Loretta Lynch Confirmation Still Not Set as Unrelated Senate Bill Stuck
Kathleen Hunter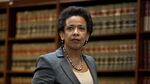 Senate Democrats rejected Republicans' latest proposal for anti-abortion language in a bill to combat human trafficking, further delaying a vote on confirming Loretta Lynch to become U.S. attorney general.
Senate Minority Leader Harry Reid said Wednesday that "it would be wrong" for Democrats to accept a proposal offered yesterday by the chamber's second-ranking Republican, John Cornyn of Texas.
Majority Leader Mitch McConnell has said the Senate will hold a vote on confirming Lynch, nominated by President Barack Obama in November, as soon as the impasse over the trafficking bill is resolved. She would replace Attorney General Eric Holder, who is remaining on the job until his successor is confirmed.
Democrats are blocking a vote on the human-trafficking bill because they object to Republican language in the bill to ban abortion funding.
McConnell, a Kentucky Republican, called on Democrats Wednesday to "find a little courage" and support Cornyn's proposal.
Reid said the language offered by Cornyn would inappropriately expand abortion restrictions and called it "illogical." Senator Patty Murray, a Washington Democrat, told reporters Tuesday that Democrats won't agree to apply the abortion-funding ban to non-taxpayer money.
Lynch, 55, has support from 51 senators, including all 46 Democrats and five Republicans -- enough to win confirmation if a vote were held. Lynch, the top federal prosecutor in Brooklyn, would be the first black woman to serve as the nation's top law enforcement official.
Lynch's Independence
Many of the Senate's 54 Republicans have questioned Lynch's independence and criticized her support of the president's immigration policies.
Holder has frequently clashed with Republican lawmakers over issues including a law enforcement operation to crack down on gun-smuggling at the U.S.-Mexico border as well as federal challenges to states' voter-identification laws.
Senator Bernie Sanders of Vermont, an independent who caucuses with the Democrats, said at a Bloomberg breakfast Wednesday that Lynch has had to "wait longer than any other" nominee for attorney general for confirmation.
"I don't think anyone doubts her qualifications," Sanders said.