Kerry Reassures G-7 Iran Deal Can Stand Up to Congress
Patrick Donahue and Arne Delfs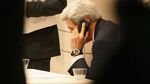 Secretary of State John Kerry reassured world powers that a nuclear agreement with Iran would hold up to U.S. congressional scrutiny as Germany raised the question of how Washington politics might influence a final deal.
After President Barack Obama accepted a compromise with Congress, Kerry flew to Germany to brief fellow foreign ministers from the Group of Seven industrial nations. Four members -- the U.S., Germany, France and the U.K. -- are negotiating with Iran, along with Russia and China.
"We are confident about our ability for the president to negotiate an agreement and to do so with the ability to make the world safer," Kerry said Wednesday in the northern city of Luebeck, where he joined the G-7 talks for less than four hours.
Iran reached a preliminary agreement with the six powers this month to ensure its nuclear program remains peaceful in return for a lifting of economic sanctions. Negotiators gave themselves until June 30 to fill in the blanks, while U.S. lawmakers are demanding a say on the final accord.
Iran will only accept a deal that lifts sanctions, and its negotiating partners are the six governments, not Congress or "American hard-liners," President Hassan Rouhani said Wednesday in a speech broadcast on state television.
"The world should know, the U.S. House of Representatives and Senate and the U.S. president and government should know that if there is no end to sanctions, there will be no deal," Rouhani said in the Iranian city of Rasht.
European Concern
Kerry told G-7 ministers that while the deal with Congress involves a concession on oversight, it gives Obama a free hand to negotiate and push through an agreement, according to two European diplomats close to the talks who asked not to be identified because the discussions were private.
German Foreign Minister Frank-Walter Steinmeier, who hosted the two-day meeting and is one of the Iran negotiators, said ministers came away with confidence that an accord could survive.
"If this wasn't satisfactory in the view of the administration, they wouldn't have made this compromise with the U.S. Congress," Steinmeier said after the meeting.
Iran's immediate reaction to the deal in Washington was restrained, he told reporters.
"We have to ensure that those in Iran who have an interest in putting aside this conflict are successful, and at the moment there's much to indicate that that's indeed the case," Steinmeier said.
Regional Impact
After Kerry lobbied lawmakers on the measure this week, the White House signaled Tuesday it would accept revised legislation giving Congress the authority to review any nuclear deal with Iran.
U.S. lawmakers "will understand that this agreement is an agreement that is in the interest of the security of everybody in the region and worldwide," Federica Mogherini, the European Union's foreign policy chief, said in Luebeck.
In a joint statement, the G-7 urged Iran to cooperate fully in reaching a definitive nuclear accord and to help settle conflicts in Syria, Iraq and Yemen.
"We call on Iran to play a responsible and constructive role in its regional environment," the ministers said in the statement.