It's Porsche Fever as Deliveries Spike by a Third Worldwide
By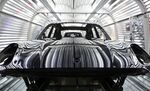 Porsche, the company behind what many consider the paragon of sports cars, just found an additional gear.
Deliveries of the Volkswagen brand jumped about a third in the first quarter of 2015, compared to the same time period last year. The company said it delivered 20,222 cars around the world in March, up from 15,377 in March 2014.
Every region of the world appeared to be in the throes of Porsche fever. Deliveries in Europe surged by about 50 percent, China welcomed 20 percent more Porsches, and U.S. dealerships ordered 13 percent more of the German cars.

It wasn't the sinuous 911 that made the difference. Much of the sales boost could be attributed to the Macan, a tiny SUV that Porsche didn't start selling until late spring last year. Although it is big enough for Costco trips and kid-schlepping, the Macan, which borrows the Indonesian term for "tiger," is a sports car in suburban clothes. Designer Mitja Borkert is proudest of its seamless, clamshell hood, a feature typically reserved for race cars. "When you buy it and want to show it to your friend, you can say 'Look, my little tiger is opening his mouth,'" Borkert told Bloomberg.

Apparently, quite a few people have been doing just that. Since the model hit U.S. dealerships in May, American buyers have snapped up almost 10,000 of them. Last month, more than one in four Porsches sold in the U.S. was a Macan.
Granted, Porsche is enjoying a strong economic tailwind. Luxury car sales in general are brisk. Audi, BMW, and Mercedes collectively sold 1.3 million vehicles in the first quarter of the year, a 9 percent increase. That's pretty fast—just not as fast as the little sports car specialist in Stuttgart.
Correction, 11:49 p.m., April 15: Corrects the year of the first quarter spike in deliveries
Before it's here, it's on the Bloomberg Terminal.
LEARN MORE