Indonesia Seeks Stature by Hosting Islamic Development Bank Unit
Yudith Ho and Liau Y-Sing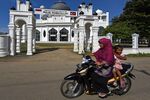 Indonesia is seeking to boost its profile as an Islamic finance hub with a bid to host the infrastructure arm of the industry's biggest multilateral lender.
The Islamic Development Bank, whose largest shareholders are Saudi Arabia, Libya, Iran and Nigeria, may choose Indonesia as the base for its Islamic Investment Infrastructure Bank, Finance Minister Bambang Brodjonegoro said by phone from the capital Wednesday. The government is approaching "key countries," especially those in the Middle East, to earn the right to host the lender, he said. Indonesia and Malaysia both have shareholdings in IDB of less than 3 percent.
"Having IIIB in Indonesia will help build infrastructure, bring in capital and boost Islamic banking assets," Achmad Kusna Permana, secretary-general at the Indonesia Islamic Banking Association, said by phone from Jakarta on April 15. "Malaysia and Saudi Arabia may offer more sophisticated markets, but the greatest funding need is here."
Indonesian President Joko Widodo plans to spend the equivalent of $425 billion over the next five years to build dams, railways and airports as he aims for 7 percent economic growth. The nation is also vying to catch up as a finance hub with Malaysia, where Islamic banking assets are eight times larger. Its neighbor is home to the standards-setting Islamic Financial Services Board and the International Islamic Liquidity Management Corp.
$1 Billion
The IDB may set up its infrastructure funding unit in the Southeast Asian nation in 2016 with capital of $1 billion, Rifki Ismal, the Jakarta-based assistant director at the central bank, was cited as saying in the Bisnis Indonesia newspaper Wednesday. Ibrahim Shoukry, the IDB's resident Indonesia representative in Jakarta, declined to comment when contacted by phone Wednesday because the discussions are still ongoing.
Indonesia is home to the world's biggest Muslim population ahead of Pakistan and India. Shariah-compliant banking assets rose 12 percent in 2014 to an all-time high of 272 trillion rupiah ($21 billion), data from the Financial Services Authority show. That compares with Malaysia's record 625 billion ringgit ($170 billion).
Indonesia's Financial Services Authority plans to provide a roadmap in May to further develop the nation's Shariah-compliant industry, its Chairman Muliaman Hadad said in Jakarta on March 5. The government is also seeking to tap global investors this year with its fifth sale of dollar sukuk since 2011.
'Dedicated Regulations'
IIIB coming to Indonesia "will expand the source and use of Shariah-compliant financial products and solutions," Angus Salim Amran, the Kuala Lumpur-based head of financial markets at RHB Investment Bank Bhd., a unit of RHB Capital Bhd., said by e-mail Wednesday. "Dedicated regulations and guidelines should be pursued to enhance the growth of the Islamic capital market."
The Jeddah, Saudi Arabia-based IDB was set up in 1975 to promote economic development among its members, which now number 56 countries. The bank's home country holds a 23.5 percent stake, Libya has 9.4 percent, Iran 8.3 percent and Nigeria 7.7 percent, according to its website. That compares with Indonesia's 2.3 percent and Malaysia's 1.6 percent.
The IDB raises funds by selling Islamic bonds, which pay returns from an underlying asset to comply with Shariah law's ban on interest. The proceeds have to be invested along religious guidelines. The basic conditions for membership are that countries should be part of the Organisation of Islamic Cooperation, and that they pay contributions to the lender, according to its website. The OIC is an international body that seeks to protect the interests of Muslims worldwide.
Development Priority
President Widodo is seeking to boost economic growth to 7 percent before the end of his five-year term in 2019, from 5.02 percent in 2014, which was the slowest since 2009. He's put a priority on infrastructure to help achieve that target. The state budget can only cover 30 percent of the development costs, with private funding needed for the rest, Sugihardjo, a senior official at the Ministry of Transportation, said Jan. 22.
"Besides adding more liquidity into the existing Islamic financial market, the proposed IIIB also indicates Indonesia's readiness to be one of the important hubs for Islamic finance," Abas A. Jalil, chief executive officer at Amanah Capital Group Ltd. in Kuala Lumpur, said by e-mail Wednesday. "Indonesia itself needs large funding for infrastructure and social development, therefore IIIB would have ready and viable projects to kickstart within its host country."
Before it's here, it's on the Bloomberg Terminal.
LEARN MORE